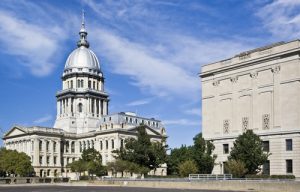 Illinois Gov. Bruce Rauner will soon have to decide whether to sign off on two bills that would substantially transform the state's e-scrap program.
After sending Senate Bill 1417 to the governor in late June, Illinois legislators passed a key companion piece of legislation, House Bill 1955, last week. The bill is expected to be sent to Rauner shortly.
Taken together, the measures would introduce sweeping changes to the Illinois program, including holding manufacturers responsible for funding recycling year-round. The current program has set annual recycling goals, which allowed manufacturers to discontinue funding the program once the goals were met.
While SB 1417 provides the bulk of the details about the program, HB 1955 was needed to appease concerns of the Illinois EPA, which had opposed SB 1417. HB 1955 gives the agency added regulatory enforcement power.
"We do feel the new language will best serve Illinois residents," said Kim Biggs, Illinois EPA spokeswoman.
It is unclear when Rauner will act on the measures. If he doesn't veto the bills, they become law after 60 days. The Illinois Manufacturers' Association (IMA), a prominent supporter of the reform, recently met with Rauner's office to request swift action once HB 1955 is sent his way. If signed, the bills would usher in the revamped program in 2019.
"The IMA is hopeful that Governor Bruce Rauner will sign these two bills into law that are both environmentally friendly and business-friendly," said Jerry Peck, IMA's director of government affairs.
More stories about EPR/stewardship