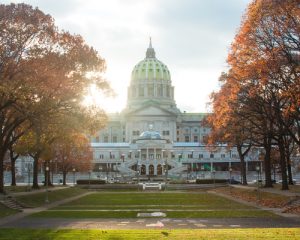 Last year, lawmakers failed to pass legislation reforming Pennsylvania's electronics recycling program. With the introduction of a bipartisan bill this year, some of them want to take another go at it.
Republican state Rep. Christopher Quinn recently introduced House Bill 1736, which is similar to legislation that failed to advance during the 2015-16 session. The goal is to restart the conversation about addressing problems in the state program, he wrote in a June memo.
"As you know, our electronics recycling system has not kept pace with the changing electronics consumer markets, leaving many with few options for recycling televisions and computers across the Commonwealth," Quinn wrote.
Pennsylvania has experienced gaps between the weight of electronics manufacturers must pay to have recycled and the actual amount of material collected each year. That has led to drying up of collection opportunities. Meanwhile, the state prohibits landfill disposal of covered electronics.
As was the case with its 2016 predecessor, HB 1736 would add a "supplementary program" to the state's Covered Device Recycling Act. Manufacturers would be charged with paying all of the costs to collect and recycling material through the program.
"This legislation allows private contractors to bid on collecting, transporting and recycling the excess amount of electronic waste in each county not currently being covered by the existing system," Quinn wrote in the memo. "All associated with contracts under this proposal would be apportioned to the manufacturers on the same market share basis currently being used in the existing law."
The supplementary program approach, which was included in House Bill 1900 last year, was criticized by a group of recycling stakeholders, who said it wouldn't address many of the problems with the state program. But HB 1900 wasn't the only effort that failed to advance last year. House Bill 2309 would have boosted the collection and recycling targets manufacturers must achieve, but it failed to get out of a House of Representatives committee.
The new bill, HB 1736, is sponsored by seven Republicans and four Democrats. It has been referred to the House Environmental Resources and Energy Committee.
More stories about EPR/stewardship