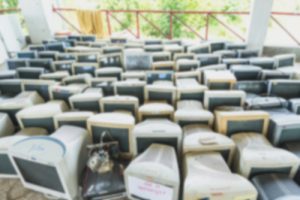 An in-depth piece exploring the landfilling of CRT glass in California drew E-Scrap News readers' attention in May.
The list below shows our top stories last month in terms of unique page views.
1 | No-landfill pledges collide with CRT realities in California
Markets and regulations are forcing companies active in the nation's largest state electronics recycling program to landfill CRT glass. The move is legal, but it's raising difficult questions for the many processors that have publicly vowed to avoid disposal.
2 | How lightweighting has shaken up the electronics stream
A recently released study quantifies the massive shift in device composition over the past 25 years. Researchers tackled the task with an eye toward predicting where materials usage is headed in the future.
3 | Another retailer settles an e-scrap case in California
Nationwide retailer Big Lots will pay millions of dollars to settle accusations that it improperly landfilled electronics and hazardous waste.
4 | Ripple effects of Closed Loop collapse felt in Virginia
A Virginia-based processor has run into CRT glass management challenges in the wake of the collapse of Closed Loop Refining and Recovery.
5 | Nevada processor pushes forward on unique e-scrap project
A fertilizer and silver producer has begun processing scrap printed circuit boards to isolate precious metals.