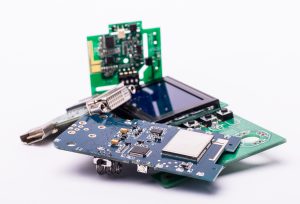 A fertilizer and silver producer has begun processing scrap printed circuit boards to isolate precious metals.
Reno, Nev.-based Itronics provided an update on its process this week, explaining it is using two furnaces to recover gold, silver, palladium, tin and copper from circuit boards. Publicly traded Itronics processes scrap electronics sourced from New2U Computers, a nonprofit computer repair and disassembly operation in neighboring Sparks, Nev. that employs about 130 people with disabilities.
At present, the company is taking in a couple thousand pounds of e-scrap per month. After a pilot phase is complete, Itronics plans to dramatically scale up the amount of scrap electronics it processes, potentially providing a future domestic downstream outlet for printed circuit boards.
"This is new technology, it's in the early development stages, we figured out all the chemistry, we're figuring out the economics, but it looks like it's going to be economically possible to do," said John Whitney, company founder and president.
Melting and separating
Itronics shreds circuit boards and mixes them with fluxes and other silver-bearing material. The mixture is placed into an electric furnace designed by Whitney. The furnace heats up to a maximum of 2,100 degrees Fahrenheit. The material melts, and when removed from the furnace, it is poured into a cone-shaped container, where it cools.
"The mix produces a glass of a specific composition, which has the ability to reject all of the metal that goes into its matrix when it's molten," Whitney told E-Scrap News. "So when it cools, the metal gets squeezed out, goes to the bottom of the container that we pour it into, and forms a puck."
The process recovers virtually all of the metal in the circuit board, Whitney said.
The multi-metal puck can be sold to downstream processors to further separate the metals. What doesn't go into the puck is embedded in a glass slag material, which contains small amounts of gold and copper. Itronics plans to sell it to copper smelters to recover valuable metals. In the future, the company may try to develop value-added uses within its own operations, such as the production of glass tile.
The ground up circuit board base material is melted in the furnace and the energy generated decreases by half the electricity needed for a melt, conserving energy. Mineral content in the base is used as a replacement flux, reducing the need to purchase virgin flux materials.
Growth plans
The company is working on an expansion plan, taking the e-scrap processing up to an estimated 25 to 50 times its current size.
"Our plan is to expand it in stages to what I call a small commercial scale," Whitney said.
Itronics began in the 1980s when Whitney invented a method of extracting silver out of photographic waste. It later began producing fertilizer products out of the de-silvered photographic liquid and first began studying the feasibility of e-scrap processing in 2015. It was first profiled by E-Scrap News last summer. The company now uses the silver removed from the photographic waste as an additive in the e-scrap processing operation.
In an update to investors earlier this year, the company wrote that the third phase of its e-scrap refining study, now under-way, is a pilot study to determine how best to roll the program out on a commercial scale. Early this month, Itronics announced it had received payment for its first shipment of silver produced from e-scrap.
Itronics generated $1.43 million in revenue last year, 97 percent of which came from sales of its fertilizer.
The company anticipates sales of metals produced from circuit boards will begin to generate revenue during the third quarter of 2017. As an added benefit, that will coincide with the slow time of year for the company's fertilizer segment.
More stories about metals