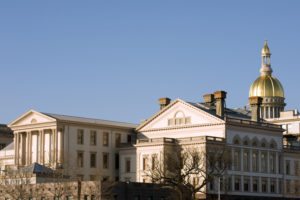 New Jersey Gov. Chris Christie signed a bill overhauling the state's e-scrap program. It was identical to legislation he pocket vetoed in 2016.
Christie on Jan. 9 signed Senate Bill 981 (S-981), which changes the method the state uses to calculate electronics collection and recycling targets, adds printers and fax machines to the list of covered electronics, allows the state to create a third-party-administered standard statewide collection and recycling plan, and brings other new elements into the state's e-scrap program.
Marie Kruzan, executive director of the Association of New Jersey Recyclers (ANJR), said the signing of the bill was good news but has left players scrambling to figure out its implementation.
"It's not a panacea. It's not going to immediately solve every problem," she said. "I think people need to accept that. It's a step in the process, and we still have a lot of unanswered questions."
The bill was supported by ANJR but challenged by original equipment manufacturers (OEMs). After holding stakeholder meetings, Christie's own Department of Environmental Protection (NJDEP) requested major changes to the bill. Lawmakers in the state Assembly rejected NJDEP's requested amendments and sent Christie the same legislative language he pocket vetoed in January 2016. Because the previous bill was passed within 10 days of the end of a legislative session, Christie was able to pocket veto it by taking no action on it. That bill did not return to the legislature for a possible vote to override the veto.
"He was pushing totally different stuff, and we knew that," Kruzan said. "We did a lot of work and a lot of outreach and a lot of our membership — our towns and our counties — all got resolutions sent."
Signature after veto
Christie's office did not release a statement on his signing of S-981. When asked what changed that led Christie to sign S-981, spokesman Brian Murray referred to a general statement the office issued in January last year: "Having the legislature pass more than 100 bills in such a hasty and scrambled way, praying for them to be rubber stamped, is never a good formula for effectively doing public business."
Christie, who leaves office in one year, has never had a veto overridden, which is said to be a point of pride for him. S-981 passed out of the legislature by wide margins (31-6 in the Senate and 60-12 in the Assembly).
"Your support, your calls, your resolutions made this possible," Kruzan wrote in an email to bill supporters. "All that work made it clear to the governor that there was enough support for this bill to override his possible veto."
Next steps unclear
The passing of the legislation into law now brings up new questions, including when specific provisions can be implemented. The bill says it goes into effect immediately, but questions remain about how they will work on the ground.
For example, the NJDEP is currently reviewing OEMs' 2017 collection and recycling plans. It has not yet released 2017 collection and recycling targets. And some parties apparently believe new provisions don't go into effect until 2018, Kruzan said.
She thinks NJDEP was also caught by surprise by the bill's passage.
"I don't think they were any readier than we were to say this thing was going to pass," she said.
Kruzan noted that passage of a bill doesn't bring guarantees on implementation.
"There's lot of ways to kill this," she said. "If you don't give [NJDEP] enough staff to do the work, how's it ever going to get done?"