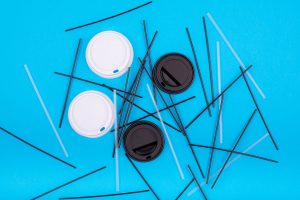 Canadian Prime Minister Justin Trudeau said his government will ban a number of single-use plastic products and will support establishing extended producer responsibility for plastic items.
According to a press release from Trudeau, a member of the Liberal Party of Canada, the federal government will ban items such as plastic bags, straws, cutlery, plates and stir sticks as early as 2021. CBC News reports a government source told the media outlet the list could also include items such as plastic cotton swabs sticks and balloon sticks, as well as polystyrene foam containers and cups.
Trudeau's press release also said the government would "work with provinces and territories to introduce standards and targets for companies that manufacture plastic products or sell items with plastic packaging so they become responsible for their plastic waste."
A number of provinces have either full or partial extended producer responsibility (EPR) programs for printed paper and packaging, but not all of them do. And existing programs differ in financing and management.
The Canadian announcement highlights ocean plastic pollution as a driver for the moves. It also references similar steps being taken in Europe, where the European Union recently gave final approval to a law banning a number of single-use plastic products, establishing plastic bottle collection targets and mandating recycled content in bottles.
Trudeau also said the steps would support efforts by the Canadian Council of Ministers of the Environment to reduce plastic waste.
Reactions to announcement
Andrew Scheer, leader of the political opposition, the Conservative Party of Canada, blasted the plan for lack of details about how it would affect prices for consumers, jobs or small businesses, according to CBC News. He also accused Trudeau of trying to distract from his government's corruption scandal ahead of federal elections this fall.
The Canadian Plastics Industry Association (CPIA) and the Chemistry Industry Association of Canada (CIAC) released a joint statement that was measured in tone, noting they share the federal government's concerns about mismanagement of plastic waste. They also "welcome the plans for producer-led extended producer responsibility initiatives which will lead to more harmonized collection and help build markets for recycled plastics," according to the press release.
But they called on the government to follow the science. "We would only caution government not to pre-determine the outcome and consider impacts throughout the lifecycle of plastic products and their alternatives," the statement said. "Any rush to judgment could have serious implications on industry's ability to create a circular economy for plastics that supports a national zero plastic waste strategy."
The Recycling Council of Ontario (RCO) released a statement hailing the announcement, noting it also contained a number of other important elements, such as changes to public procurement policies and investments in research.
"By taking a multi-pronged approach – product bans, producer responsibility, support for innovation and research, and most of all reducing plastic in its own operations – the Government of Canada has made a positive and critical first step," JoAnne St. Godard, executive director of RCO, stated in the release.
Photo credit: Inna Zakharchenko/Shutterstock
More stories about Canada