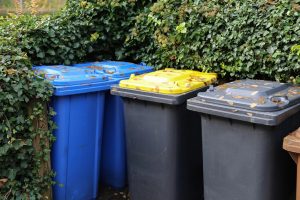 By charging fees, Casella Waste Systems enjoyed year-over-year boosts in recycling revenue during the first quarter. The move blunted persistent market pain that's been keenly felt by the company's peers.
Advanced Disposal Services and Casella, the fourth- and fifth-largest residential garbage and recycling companies in North America, respectively, recently reported their first-quarter financial results.
Resource Recycling covered first-quarter numbers for Waste Management, Republic Services and Waste Connections on April 30. Those are the three biggest residential garbage and recycling companies in North America.
Of the top five, all experienced falling year-over-year recycling revenues except for Casella.
Fees offset market exposure
Casella Waste Systems' collected $10.8 million in recycling revenues during the first quarter, up 6 percent year over year. Recycling revenues come from processing fees, tipping fees and commodity sales.
The Rutland, Vt.-based company's recycling business still operated at a loss. During the first quarter, it lost $941,000, according to the company's quarterly report. That was substantially less painful than the first quarter of 2018, however, when the recycling business operated at a $5.2 million loss.
The higher revenues were mostly because of fees the company charged, which offset lower commodity prices. All of the major haulers have worked in recent years to charge fees and renegotiate contracts with municipalities to reduce their exposure to commodity markets.
In Casella's case, during the first quarter, the company brought in an addition $2 million from higher tipping fees and an additional $500,000 from higher commodity volumes. That money was partially offset by a $1.9 million reduction in revenue from lower market prices. The average commodity price per ton was down 15 percent year over year. Prices for a major component of the mix, OCC, fell 35% from December to April.
"Due to our efforts to restructure third-party recycling processing contracts and off-take commodity pricing risk, we improved operating income year-over-year in our recycling business despite commodity prices being down roughly 18% during the same period," John W. Casella, chairman and CEO, stated in a press release. "Our [sustainability recycling adjustment] fee, revenue-share contracts and contamination fees combined with our efforts to produce higher-quality materials and manage processing costs have allowed us to improve recycling financial performance in a challenging commodity pricing environment."
During a May 2 conference call with investors, Ed Johnson, Casella's president and chief operating officer, noted that in the Northeast, where Casella operates, most states mandate recycling.
"Even though [it] now costs more to recycle than to put it in the landfill, our customers want to do the right thing and are willing to pay for the service we provide," he said, according to a transcript from Seeking Alpha. "In the long run, markets will recover and the cost to our customers will go down."
Casella now owns or operates 18 recycling facilities.
Recycling now makes up less than 7 percent of Casella's revenue. Overall, company revenues in the first quarter totalled $163.7 million, up 11% year over year.
Recycling revenue continues to fall
Ponte Vedra, Fla.-based Advanced Disposal Services brought in $3.1 million in recycling revenues during the first quarter, down 39% year over year, according to the company's quarterly report (Note: Recycling rebates paid to customers have been subtracted from recycling revenue, resulting in the $3.1 million figure above).
The decline is a continuation of earlier revenue trends. In 2018, Advanced Disposal's recycling revenue fell by 45% compared with the year before.
Recycling makes up less than 1% of Advanced Disposal's revenue. Overall, company revenues in the first quarter were $384 million, up 5% year over year.
In April, Waste Management and Advanced Disposal announced a nearly $5 billion deal to have Waste Management acquire Advanced. The deal is expected to close by the first quarter of 2020, subject to the satisfaction of customary closing conditions, including regulatory approvals and the go-ahead by a majority of Advanced Disposal's shareholders.
Because of the pending transaction, Advanced has cancelled its first-quarter investors conference call. During the calls, company executives often provide more details on the recycling markets and their financial impacts.
Photo credit: Maleo/Shutterstock
More stories about markets