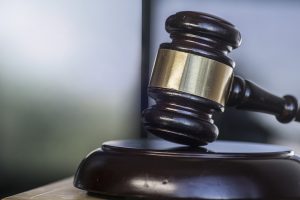 In new court filings seeking cleanup funds, two warehouse owners have named over 40 electronics recycling companies they say contributed to what became the largest CRT glass stockpile in U.S. history. The landlords invoke Superfund law in their suits.
CRTs, or cathode-ray tubes, were used in the bulky televisions and computer monitors that have been replaced by flat-screen technology over the past 20 years. The tubes contain lead, and as TV and screen manufacturing has shifted, recovered CRT glass has become a negative-value material for electronics processors.
The complaints in the recent lawsuits come from owners of properties in Columbus, Ohio, and they allege e-scrap companies from across the U.S. and Canada shipped CRT glass to properties leased by a company called Closed Loop Refining and Recovery. Closed Loop shuttered in 2016 and left an estimated 316 million pounds of CRT materials on multiple properties in Arizona and Ohio.
Among the 41 companies and one solid waste district named in the lawsuits are some of the e-scrap industry's most prominent businesses.
According to attorneys for the landlords, settlements with many of the defendants are expected "in the near-term."
Defendants named
New York City Investment firm Garrison Southfield Park, which owns sites at 1655 and 1675 Watkins Road in Columbus, first filed its federal lawsuit against Closed Loop and a handful of e-scrap suppliers in September 2017. The complaint claims suppliers are responsible to help fund the cleanup under the federal Comprehensive Environmental Response, Compensation and Liability Act (CERCLA), the same law that governs Superfund sites.
Now, in an amended complaint filed March 28, Garrison names additional suppliers it believes shipped glass to the Ohio sites and details how much the firm thinks each of them sent. Separately, Olymbec USA, which owns a Columbus warehouse at 2200 Fairwood Ave., filed a lawsuit on March 20 naming the same e-scrap companies as defendants. The cases are both in the U.S. District Court for the Southern District of Ohio.
In total, the three Ohio sites hold 158 million pounds of e-scrap, and the landlords estimate cleanup will cost $18.2 million.
Garrison's amended complaint alleges the following were the top 10 e-scrap suppliers to its properties:
46.0 million pounds: Kuusakoski Recycling/Vintage Tech. The companies were named in Garrison's original federal complaint. Kuusakoski owns Vintage Tech. Garrison claims they were the largest single glass supplier to Closed Loop in Ohio, sending glass starting in 2012 and extending into 2016.
16.4 million pounds: Rochester Computer Recycling & Recovery (EWASTE+). Garrison alleges this Victor, N.Y.-based company sent e-scrap to Closed Loop from June 2012 through about March 2016.
11.6 million pounds: Robert A. Erie/E-World Recyclers. Garrison alleges now-closed E-World Recyclers, of which Erie was CEO, shipped this weight from around June 2012 to around November 2014. Erie recently served out a prison sentence and is now in a residential reentry center in San Diego after pleading guilty to one count of conspiracy in 2017. Federal prosecutors alleged he engaged in a scheme to traffic counterfeit goods that his company had been hired to destroy.
7.1 million pounds: eCycleSecure. Garrison alleges this company, based in Charlotte, N.C., sent material from June 2012 through around September 2015.
5.6 million pounds: IMS Electronics Recycling. This company, which has plants in San Diego and Columbus, was acquired in 2018 by Texas-based processor Transpere. Garrison says IMS sent material to Closed Loop from about February 2014 through February 2016.
5.3 million pounds: Dynamic Lifecycle Innovations. Garrison claims this processor, which has facilities in Wisconsin and Tennessee, sent this weight to Closed Loop from January 2013 through about March 2016.
4.6 million pounds: Federal Prison Industries (UNICOR). This agency, named as a defendant in Garrison's original federal complaint, is alleged to have sent material to Closed Loop from May 2012 to December 2015.
3.9 million pounds: GEEP/GEEP USA. Garrison claims GEEP, based in Barre, Ontario, sent 2.7 million pounds of material to Closed Loop between September 2012 and June 2013. It says related company GEEP USA, headquartered in Durham, N.C., sent 1.2 million pounds between September 2012 and May 2015.
2.9 million pounds: CompuPoint USA. Garrison alleges this Norcross, Ga.-based company shipped the weight from about August 2012 to about January 2016.
2.5 million pounds: American Retroworks. Garrison said this Middlebury, Vt. company sent material to Closed Loop from May 2012 to around January 2014.
In addition, Garrison's amended complaint names for the first time as a defendant Moshe Silagi of Thousand Oaks, Calif. The filing says Silagi is former owner of 1675 Watkins Road and leased the space to Closed Loop.
(Story continues below chart. Click to view chart in a new browser window.)
Other legal cases
The federal cases came after Garrison won a judgment in state court in 2017. The Franklin County Court of Common Pleas in August 2017 ordered Closed Loop and its former leaders, Brent Benham, David Cauchi and Brian LaPoint, to pay Garrison Southfield Park more than $18 million; however, according to Garrison's federal complaint, the company has been unable to recover the judgment.
Garrison claims 128 million pounds of CRT materials are stored at its locations on Watkins Road, including an estimated 113 million pounds of crushed, mixed leaded and unleaded glass and 15 million pounds of other e-scrap, according to the lawsuit. Garrison Southfield Park estimates the cleanup costs at $14.2 million.
Olymbec, a company based in Memphis, Tenn., estimates 30 million pounds are stored at its property on Fairwood Avenue and will cost over $4 million to clean up. Olymbec's complaint does not provide estimates of how much weight each defendant sent to its facilities. The complaint does note that although most glass destined for Closed Loop's Ohio operations went straight to the Watkins Road facilities, there were occasions when mixed glass was transferred from the Watkins Road locations to Olymbec's Fairwood Avenue site.
"The result is that CRTs records evidencing the transportation of CRTs and other e-waste to the Closed Loop facilities in Ohio do not reflect the Closed Loop facility that eventually contained the CRTs, CRT glass and other e-waste," according to Olymbec's lawsuit.
Benham, Cauchi and LaPoint are not named as defendants in the Olymbec complaint or Garrison's amended complaint because they each filed for voluntary Chapter 7 bankruptcy protection, according to Garrison's court documents. Benham filed in April 2018, Cauchi in October 2017 and LaPoint in November 2017.
Settlements coming?
The case is one of the first instances of CERCLA being invoked to pursue suppliers for the clean up of e-scrap.
In an earlier case, a federal judge in South Carolina ruled that two counties that sent CRT materials to Creative Recycling Systems were partially responsible for cleanup costs when Creative closed and left a stockpile in a warehouse. The judge in that CERCLA case also allocated substantial responsibility to the landowner, a company called Carolina Pines I. Other counties and cities had already agreed to pay out via settlement agreements before the judge's November 2018 decision.
Court documents show the Garrison and Olymbec have been pursuing settlements with various companies. Since late 2017, Garrison, Kuusakoski and UNICOR have been asking the court to delay the case. According to a Feb. 28 delay request, they were requesting time "to pursue settlement negotiations with these Defendants and potential new defendants." Garrison's goal was to reach as many settlement agreements as possible before filing the amended complaint, the document states.
It's unknown how many parties have reached an agreement with the landlords – no settlement agreements have been submitted to the court yet.
Garrison and Olymbec have been coordinating their settlement negotiations so the defendants could sign one settlement ending claims under both landowners' lawsuits, the delay request notes.
"Garrison has been engaged in settlement talks with several of the defendants named in the Amended Complaint, including the original named defendants, for quite some time now," attorney Karl Heisler, who represents Garrison, said in a statement to Resource Recycling. "These talks have been meaningful and productive, and we are anticipating entering into significant settlements with many of them in the near-term. It's been an impressive showing of corporate social responsibility. Garrison has also joined forces with Olymbec, and, together, Garrison and Olymbec will be aggressively pursuing litigation against all those who have elected not to settle."
Beyond the $14.2 million it's seeking for cleanup costs, Garrison's amended complaint seeks an additional $2.6 million for lost rent. The most recent filing also notes new causes for action, alleging "private nuisance" and laying out additional cost recovery responsibilities the defendants could be responsible for under CERCLA, specifically preliminary investigative costs.
Staff Writer Colin Staub contributed to this report.
Photo credit: BCFC/Shutterstock
More stories about courts/lawsuits