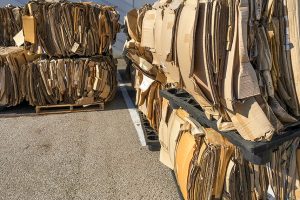 Stories touching on OCC markets, a mixed-plastic outlet, paper mill fire, hauler earnings and packaging stewardship drew readers' attention last month.
The list below shows our top stories published in February in terms of unique page views.
1 | OCC movement slows alongside Chinese economy
China has decreased purchases of old corrugated containers, which has caused domestic and export prices for the key fiber grade to fall.
2 | Here's a domestic outlet hungry for 3-7 plastics
Many municipal programs and facilities have recently tried to cut back on mixed plastics, citing tight markets. But reclaimer EFS-Plastics has plans to open a third North American operation and is on the hunt for more mixed bales to fuel its growth.
3 | Fire destroys Northeast recycled paper mill
A recycled paper mill in New Jersey was lost in a massive fire, a blow to the local economy and certain recycling operations in the region.
4 | How a tumultuous 2018 affected Republic Services
Recycling revenues fell last year for one major hauler, hampered by China's import restrictions and low fiber prices. Meanwhile, the company opened what it calls a next-generation MRF in Texas.
5 | Packaging stewardship bills hit states
Lawmakers in Indiana and Washington are evaluating proposals that would shift end-of-life packaging management responsibilities from municipalities to product producers.
Photo credit: PhilipR/Shutterstock