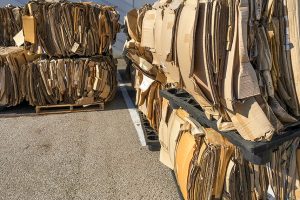 China has decreased purchases of old corrugated containers, which has caused domestic and export prices for the key fiber grade to fall.

Although the latter part of 2018 was marked by higher recovered fiber imports into China, U.S. exporters report significant difficulty moving the material offshore in early 2019. The Paper Stock Report and RISI (subscription required) recently described stagnant OCC movement leading to oversupply in the U.S. market.
The slowdown is even more notable given the timing: Chinese companies usually place more recovered paper orders before the Lunar New Year, when businesses traditionally take downtime, so they have feedstock to start up again afterward.
The holiday this year fell in early February, but as for a buying spike, "We hadn't seen that in our recycling business," said Jeff Chalovich, president of corrugated packaging for WestRock, in the company's recent earnings call.
Nor can the Lunar New Year be entirely to blame for the ongoing lag in OCC exports, said Dan Gee, a consultant with recovered paper research firm Moore & Associates.
"If the market was strong, U.S. exports would continue," Gee said.
Permits don't equal purchases
The Chinese government early this year issued import permits for more than 5.5 million tons of recovered fiber, more than it typically approved throughout 2018. But that jump was followed by more than four weeks without permit releases. And the latest release, on Feb. 19, approved just 11,000 tons of recovered fiber for import to a single company.
Paper producer WestRock, which is both an end user of recovered fiber and a broker of material the company collects but doesn't use itself, acknowledged that import permits spiked early in the year. But the permit volume hasn't necessarily translated to orders.
"We expect there to be some uptick, but again, we're not seeing a large influx in our recycling business to ship more OCC to China," Chalovich said, according to a transcript from Seeking Alpha.
During packaging company Sonoco's recent earnings report, analysts noted U.S. OCC prices have dropped by $10 to $15 per ton in February. Westrock anticipates the U.S. average OCC price will decrease by about $5 per ton throughout 2019, Chalovich said, a forecast that takes into account an anticipated $10 increase in the second half of the year.
OCC prices have fluctuated significantly over the past few years. In 2017, domestic prices climbed to near record highs: In March 2017, domestic OCC was trading for a national U.S. average of $160 per ton, up from $86 per ton a year before that, according to RecyclingMarkets.net. But after China's import policies were announced that summer, the fiber grade plummeted in the fall. Prices continued to decline in early 2018 before leveling out for the remainder of the year.
Domestic average OCC prices are currently sitting at about $59 per ton, according to RecyclingMarkets.net, down from $70 a month ago.
Meanwhile, the Paper Stock Report and fiber research firm RISI recently reported pricing for exported OCC has dropped even more, in some areas down roughly $40 per ton in the past month.
Driven by economic slowdown
Market analysts and company executives alike point to larger Chinese economic trends as a key component of the OCC demand slump. China's economy is widely reported to be in its slowest growth in years, and the OCC market is tied to general economic health.
"I think the overall slowing China economy is a big part of what's happening there," said Bill Moore of Moore & Associates.
Additionally, U.S. containerboard manufacturers including International Paper (IP) report recent lower exports due to weak Chinese demand.
One factor in the mix is China's 25 percent tariff on U.S. OCC and other recovered fiber, implemented last summer as part of the ongoing trade war between the two countries. Removing the tariff would increase U.S. OCC export volume, Gee said. Moore & Associates is also keeping track of the domestic containerboard market, which also helps to dictate the market price for suppliers of recovered OCC.
New capacity also slows
In another indication of a recent slowdown in the Chinese OCC market, recycled paper equipment manufacturer Kadant noted a "significant reduction" in bookings for its processing equipment during the fourth quarter of 2018.
"While the trade issues between China and the U.S. are being resolved, uncertainty in future demand for packaging as well as fiber shortage due to waste paper import restrictions have impacted new capacity additions," said Jonathan Painter, president and CEO of the Massachusetts-headquartered company, in a transcript provided by Seeking Alpha.
"That burst of activity that we saw in building mills around China, I would say, has paused a little bit," Painter added. "And it doesn't mean that won't restart – I would say, we don't know."
Despite an initial increase in paper mill capacity in Southeast Asia following China's policy changes, paper mill development in that region "has also slowed as there is uncertainty regarding the willingness of these countries to accept the imported waste paper and questions as to how well this semi-finished product will ship to mills in China."
And on top of the current market slowdown, there's the looming threat by the Chinese government to ban all recovered paper imports, as well as imports of any other type of "solid waste," typically taken to include recyclables.
Should the government take this step, which it has hinted it may do in the next couple years,  Painter said Chinese industry "will either need to build a lot more mills in Southeast Asia to process imported waste paper or it will need to import linerboard from North America and Europe." Linerboard is a finished paper product used in containerboard manufacturing.
Photo credit: PhilipR/Shutterstock
More stories about fiber