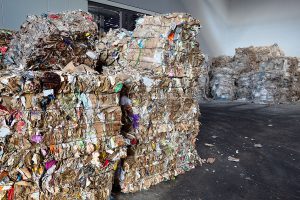 In its first release of import permits for 2019, China's environmental ministry approved a larger volume of recovered fiber than in any single release last year.
The move suggests China's government could be gearing up for higher OCC imports in 2019.
The Ministry of Ecology and Environment (MEE) on Dec. 14 issued permits allowing more than 5.5 million short tons of recovered fiber for import in 2019. That's more than twice the 2.5 million short tons approved in the first batch of permits in 2018. It's also higher than any single permit release last year, and it is more than a quarter of the total weight approved for import in 2018.
A second list of issued permits was released Dec. 29, approving the import of an additional 476,000 short tons of recovered fiber.
"This is a positive start to the new year," said Dan Gee, a senior associate with recycled paper consulting firm Moore & Associates. "Time will tell if it continues in larger volumes being issued consistently."
Rumored changes to the Chinese import permit system, including a shift in how often permits are issued, have not come to pass.
"Although the recovered paper quality restrictions have not changed, Chinese mills need to have confidence in the import permit system," Gee said.
All told, China approved the import of more than 20.6 million short tons of recovered fiber in 2018, according to MEE data. Year-end trade figures are not yet available, but through November, China imported 16.2 million short tons of the material in 2018, according to figures from China Customs Statistics.
(Story continues below chart. Click chart to view in a new browser window.)

New year, new restrictions
Last year brought major restrictions on shipments of U.S. recyclables to China, leaving companies and programs across North America scrambling to find outlets. Even more restrictions come into effect this year, although they are likely to have a lesser impact on the municipal recycling sector than the changes of 2018.
Post-industrial scrap plastic is now officially banned from import into China. This move was announced last spring, and the first couple import permit releases appear to confirm it: The first permits issued for 2019 do not include any plastic.
Even though most scrap plastic has been banned from import since the beginning of 2018, throughout the past year the country has issued permits allowing more than of 166 million pounds to be imported, likely most of it post-industrial. The most recent Chinese statistics, available through November, show China brought in about 110 million pounds of scrap plastic in that time.
Although that was down 98 percent year over year (China imported 12.45 billion pounds of scrap plastic during the same period in 2017), that weight still made China among the largest importers of scrap plastic worldwide in 2018.
For material that is still allowed in, such as OCC, the government has designated 18 ports that can be used to ship that material. The list, provided by the Bureau of International Recycling, indicates that the largest ports in China will still be allowed to process scrap materials. Smaller ports, of which there are hundreds, will be barred from allowing scrap materials into the country.
More restrictions are on the way, according to government announcements. Last month, the environment ministry released a plan to restrict imports of scrap aluminum, copper and steel, which are currently classified as "unrestricted," And China has a long-term goal to eliminate all "solid waste" imports, which is usually interpreted to include scrap materials.
Photo credit: RYosha/Shutterstock

More stories about exports