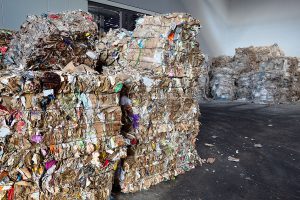 Last month, news about big changes in domestic and foreign markets dominated readers' attention, although they were also drawn to an article about graphics on recycling receptacles.
The list below shows our top stories published in January in terms of unique page views.
1 | China's permit move is good news for fiber exporters
In its first release of import permits for 2019, China's environmental ministry approved a larger volume of recovered fiber than in any single release last year.
2 | Low aluminum prices add to MRF woes
Used beverage cans, historically a reliable and valuable commodity, have seen recent price lows that are adding extra strife to already stressed residential recycling markets.
3| China: Plastic imports down 99 percent, paper down a third
Year-end customs figures from the Chinese government quantify the country's marked decrease in recyclable material purchases in the first year of new import restrictions.
4 | WM charts market shift and other industry trends
Waste Management's latest sustainability report delves into factors impacting the recycling industry as a whole, including fluctuating markets, sustainable materials management, technological advances and more.
5 | How visuals can boost multi-family recycling
Canada's capital tested whether wrapping receptacles with splashy graphics of recyclables can improve capture rates and reduce contamination. The move can be effective, but such a strategy also has limitations.
Photo credit: RYosha/Shutterstock