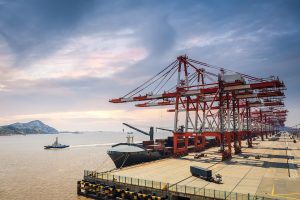 Year-end customs figures from the Chinese government quantify the country's marked decrease in recyclable material purchases in the first year of new import restrictions.
U.S.-specific figures, which are published by the U.S. Census Bureau, have been delayed by the four-week federal government shutdown that ended Friday. But China's General Administration of Customs has published data quantifying imports from all countries.
Recovered plastic shipments to China dropped by 99.1 percent in 2018 compared with 2017, indicating the country's restrictions on importing post-consumer plastic have been highly impactful.
Chinese companies imported 110 million pounds of scrap plastic in 2018. As Resource Recycling has previously reported, the volume still places China among the top importers of scrap plastic in the world. But it is a fraction of the nearly 12.6 billion pounds the country brought in during 2017.
On the paper front, Chinese companies imported 33.8 percent less recovered fiber last year than they did in 2017. The country brought in 18.8 million short tons of recovered fiber in 2018, down from 28.4 million short tons the previous year.
The Chinese government in 2018 began heavily restricting recycled material imports. Mixed paper and post-consumer scrap plastic was officially banned as of Jan. 1, 2018, and sharp quality standards for other recyclables, such as OCC, took effect in March.
Since the restrictions, other countries, particularly those in Southeast Asia, have ramped up imports significantly. For example, Thailand, which also recently released full-year 2018 figures, imported 1.2 billion pounds of scrap plastic that year. That's more than triple the 337 million pounds sent to Thailand in 2017.
Most Southeast Asian countries have yet to release year-end imports data.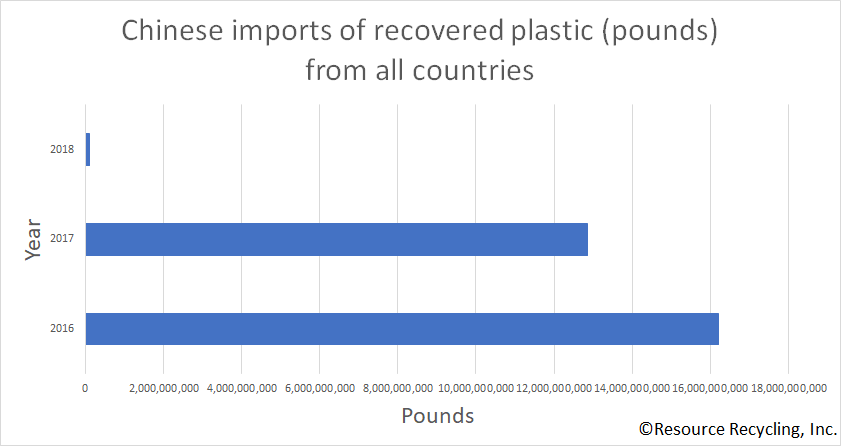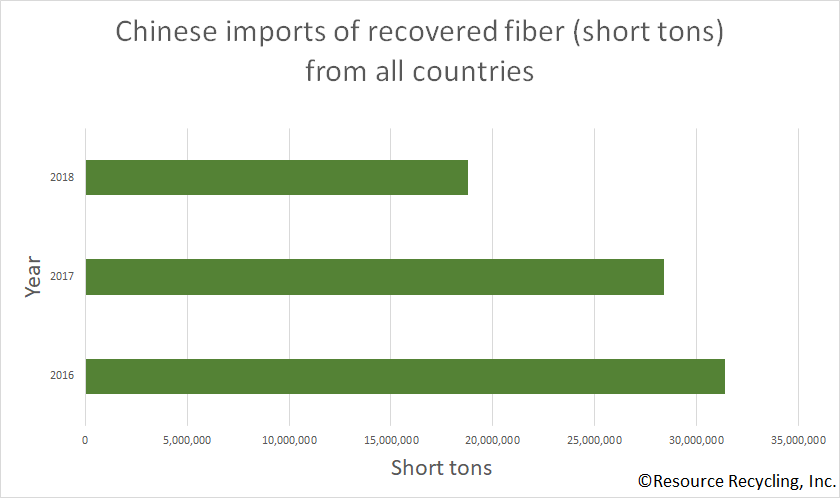 Photo credit: chuyuss/Shutterstock

More stories about exports