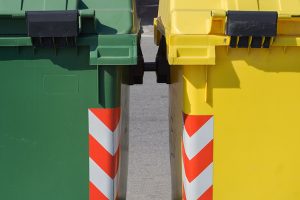 Waste Management's latest sustainability report delves into factors impacting the recycling industry as a whole, including fluctuating markets, sustainable materials management, technological advances and more.
The company, which is the largest hauler in North America, is deepening its shift toward a sustainable materials management (SMM) approach to recycling, and that approach is guiding future goals. After sharply reducing recyclables shipments to China over the past year, the company offered details on where that displaced material is now finding a home.
Waste Management publishes a large report every two years and a shorter update on the off years. The 2018 report focuses on company progress in 2017 but also includes key details about how Waste Management adapted to the fast-changing industry in 2018.
By the numbers
The Houston-headquartered hauler collected more than 15 million short tons of recyclables in 2017, which is almost double what Waste Management sorted and sold a decade ago.
The vast majority of collected material in 2017 was paper, making up 9 million tons of the total. Organics made up 3.4 million tons, glass contributed 771,000 tons and plastic 433,000 tons, with the remaining weight comprising fly ash, construction and demolition debris, scrap electronics and other materials.
Waste Management operates 44 single-stream MRFs and two dual-stream recycling facilities. The company also runs 29 commercial or paper-only recycling operations; 40 composting, chipping and grinding facilities; 11 C&D facilities and a handful of other types of materials recovery-related sites.
The company services 18.3 million residential customers and 1.2 million commercial and industrial customers. In 2017, Waste Management held 2,645 municipal collection contracts.
A year of adjustment
The report notes that when the Chinese government implemented Green Fence in 2013, Waste Management began a push to move material to alternative markets outside of China, looking to shield itself from market disruptions.
"In the five years since, we have grown our markets and strengthened our international commodities team," the report states, describing more than 50 contract workers in offices in Mexico, China, India and elsewhere.
Despite getting an early start on diversifying its downstream destinations, the company saw some major shifts between 2017 and 2018.
China brought in 27 percent of Waste Management's entire volume of recyclables in 2017, a portion that dropped to just 5 percent in 2018. The decrease was accompanied with growth in other markets: U.S. end users bought 68 percent of the hauler's recyclables in 2018, up from 63 percent a year earlier. India increased its share of Waste Management's recyclables from nearly 5 percent to more than 15 percent. Growth was also seen in Italy, Mexico, Taiwan, Thailand and Vietnam.
Rethinking recycling
In addition to recycling markets in flux, the core concept of recycling is undergoing a review. Environmental experts are increasingly calling for a sustainable materials management (SMM) approach to waste management. This approach promotes managing materials in a way that provides the best benefit from a life-cycle perspective.
Waste Management adopted this approach two years ago, when its sustainability report noted the company will talk less about tonnage of material recycled and more about greenhouse gas emissions avoidance and energy savings.
The new report reinforces the company's SMM focus.
"We are doing our part to drive needed change in recycling by encouraging all stakeholders to rethink recycling," wrote Jim Fish, CEO of Waste Management, in an introduction to the report. "This starts by remembering that recycling is not simply about landfill diversion. It is about product transformation and reuse, and it's about real environmental and resource conservation benefits."
He called for recycling to be considered as one part of an SMM model, noting that materials recovery "carries a cost of service and serves as feedstock to the manufacturing sector."
To illustrate the importance of SMM considerations, Waste Management calculated that it avoided more than 32.5 million metric tons of carbon dioxide equivalent (MTC02e, a common emissions measurement) through its recycling activities alone. Further, the company found that 60 percent of its overall emissions reduction comes from its recycling activities.
The SMM approach plays a significant role in the company's future recycling goals.
One of the company's goals involves "expanding the productivity of our recycling operations, with an emphasis on increasing the recycling of those materials that provide the greatest GHG reduction benefit." The report includes a chart comparing the emissions reductions associated with various commodities, indicating aluminum can recycling provides the largest emissions reduction and glass provides the least.
Technological advancement
With its vast collection of recycling facilities, Waste Management has invested more than $1 billion in processing infrastructure over the past three decades, according to the report. In 2017, the company spent $22 million in recycling infrastructure investments, up more than $13 million from the year before.
In 2017, Waste Management installed its first robot in a MRF in Houston. The technology will help improve quality control and increase worker safety, Fish wrote. The robot, which is not identified in the report by brand, uses "sophisticated cameras to identify specific objects such as cans, plastic containers, glass or other recyclable materials within seconds." A number of companies have begun offering similar artificial intelligence sorting systems for recycling facilities.
The robot Waste Management uses performs some 55 picks per minute, which the company stated is slightly quicker than 1.5 human workers on a per-minute basis. The robot also provides an additional level of safety for workers, sorting out contaminants that could be dangerous for workers, according to the company.
At the curb, the company is testing new technologies, as well. Waste Management is experimenting with cameras onboard collection trucks. The cameras examine each cart of recyclables as it's picked up, and together with a computer system they can provide that customer with feedback on their recycling habits. The company has used onboard cameras in other capacities, notably to increase safety, but the cart monitoring on a wider scale is a new step.
Photo credit: Phototribe/Shutterstock
More stories about markets