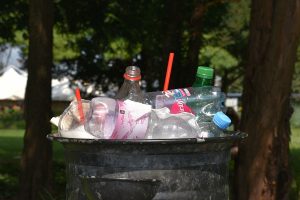 The weight of plastic bottles collected for recycling continued to decrease in the U.S. in 2017, contributing to the third straight year of a declining recycling rate.
The American Chemistry Council (ACC) and the Association of Plastic Recyclers (APR) on Monday released figures indicating 2.8 billion pounds of plastic bottles were collected for recycling in 2017. That's down from more than 2.9 billion pounds a year earlier, a decrease of 3.6 percent.
The overall plastic bottle collection rate, which calculates the percentage of plastic bottles collected out of the total weight of plastic used to produce new bottles, was 29.3 percent in 2017. In 2016, it was 29.7 percent. Last year, the report acknowledged, marked "an exceedingly difficult year for plastic bottle recycling."
The latest figures indicate the continuance of a recent downward trend. After more than two decades of solid growth, the plastic bottle recycling rate fell slightly for the first time in 2015. Since then, it has declined each year.
Collection figures varied by resin last year. For example, natural HDPE bottle collection increased from 462.1 million pounds to 473.8 million pounds, and collection of No. 7 plastic bottles increased from 4.9 million pounds to 5.3 million pounds in 2017.
But major collection declines among other resins were more than enough to offset the slight increases. PET collection fell by 27 million pounds, or 1.5 percent. Overall HDPE collection, including color HDPE, fell by more than 70 million pounds. Polypropylene collection fell by 5.5 million pounds.
Despite the overall downward movement in collection and recycling rate, there were some positive indications in 2017. Notably, although collection of the material dropped, the weight of PET bottles processed increased by 59 million pounds compared with the 2016 figure.
The PET bottle recycling rate also increased slightly – even though collection fell, the total volume of virgin and recycled PET resin used to make new bottles declined significantly in 2017. This volume fell by more than 4 percent, or about 259 million pounds. The report attributes this in part to the bankruptcy of M&G Polymers USA, which was a major supplier of virgin resin.
The report identifies numerous plastics recycling market challenges, including fluctuating crude oil and natural gas prices, export disruptions and the limited availability of quality post-consumer bottle material to domestic reclaimers.
Photo credit: Amani A/Shutterstock
More stories about collection