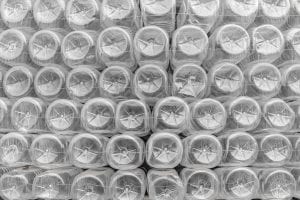 The U.S. PET bottle recycling rate inched upward to 29.2 percent last year.
That rate was up from 28.4 percent the year before, according to a report from The National Association for PET Container Resources (NAPCOR) and The Association of Plastic Recyclers (APR). The report was released this month.
"Demand for RPET continues to be healthy, and we have capacity and infrastructure to meet those needs," stated Tom Busard, NAPCOR chairman, chief procurement officer for Plastipak Packaging and president of Clean Tech, Plastipak's recycling affiliate. "However, we have more work to do to improve the quality and volume of PET that goes to our reclaimers."
The 2017 report notes a continuation of a trend of decreasing recovered PET exports. Last year, U.S. exports of the plastic constituted the lowest export fraction since 2004, at only 16 percent of total collection. U.S. reclaimers were able to take up the slack, according to the report.
"Total postconsumer bottles recycled and used by reclaimers was supported by strong domestic demand for the material," according to a press release.
There were shifts in usage by different U.S. and Canadian manufacturers, however. For example, in 2017, total RPET going into fiber, sheet, thermoforms and strapping increased, while the weight going into new bottles decreased.
Steve Alexander, president of APR, noted the keys to continued growth are both increased end-user demand for RPET and designing bottles for recyclability.
"Despite challenges with increased contamination and demand markets, the RPET industry continues to demonstrate its strength in terms of consistent domestic material purchases and investment in enhanced processing capacity," he stated in the release. "The industry is superbly situated to work with all segments of the demand market to meet their sustainability challenges."
The 2017 recycling rate signals a halt to the slide experienced a year earlier. Tough markets battered the industry in 2016, leading to a number of plants going off-line.
The annual analysis has been produced by NAPCOR for 23 years. This is the 13th year NAPCOR and APR have worked jointly to produce it.
Photo credit: WeStudio/Shutterstock
More stories about PET