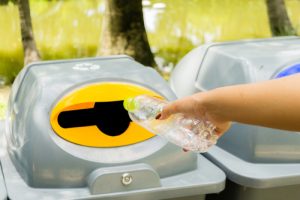 The U.S. plastic bottle recycling rate declined to 29.7 percent in 2016, continuing a downward turn that began a year earlier after more than two decades of solid growth.
The 2016 recycling rate for plastic bottles of all resins was down from 31.1 percent a year earlier, according to a report released Nov. 7 by the American Chemistry Council (ACC) and the Association of Plastic Recyclers (APR). The 2015 figure was down slightly from 2014, ending 20-plus years of growth.
The report on all resins comes shortly after findings that PET container recycling fell in 2016 as well.
The groups point to declining collection volumes for the top recyclable plastic bottles, rising contamination and shifting export markets as factors contributing to the lower recycling rate.
Collection figures decreased for both PET and HDPE bottles, which together make up 97.1 percent of the domestic plastic container market. PET collection dropped by 44 million pounds, while HDPE collection dropped by 31.7 million pounds. Polypropylene collection, however, rose by 4.8 million pounds from 2015 to 2016. In 2015, PP container collection tonnages equated to 17.9 percent of total PP container resin put on the market. That figure rose to more than 20 percent last year.
The report also points to lightweighting as a challenge in driving up the plastic bottle recycling rate.
Despite the negative trend, a press release from ACC and APR points to a compound annual growth rate of 2.1 percent over the past five years, meaning the decline has not been enough to offset the recycling growth in recent years.
The report's sponsors also cite a few potential positives coming out of the current struggle.
"Some U.S. recyclers are seeing these short-term challenges as opportunities to innovate and invest in our plastics recycling infrastructure," Steve Alexander, president of APR, said in the release. "The key to continued growth lies in improving our sorting and collection technologies to deliver consistent, high-quality yields that strengthen our global competitiveness."
More stories about plastics