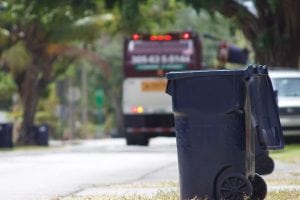 Debates pitting single-stream versus dual-stream recycling have gained steam in recent months. But in a recent gathering of key stakeholders, the consensus was to stick with single-stream systems.
The forum was one of several group discussions at the MRF Summit hosted at WasteCon 2018 last month. Together, breakout groups made up a session titled "Facing the Music – Are We All Listening to Different Tunes?" After the three concurrent discussion sessions, members of each reported on their results to the wider audience.
Facilitated by Nat Egosi of RRT Design & Construction and Michael Timpane of Resource Recycling Systems (RRS), one breakout group sought to gauge whether there was widespread interest in moving away from single-stream recycling. The topic has received more attention in recent months, including in multiple Resource Recycling articles, as communities try to weather the downturn in recycling markets.
"There's been some discussion about, 'Well, we made a huge mistake in this country for those communities that went to single-stream,'" Egosi said. "Those that are dual-stream are saying, 'Yeah, we were the smart ones. We stayed dual-stream.'"
The session drew some 170 recycling stakeholders from around the country and across various sectors. A show of hands indicated roughly two-thirds hailed from single-stream recycling programs, and the remainder operated multi-stream systems, including two-sort.
Attendees split into groups and then reconvened to share what they talked about and gauge the opinions of other attendees. When the whole group touched on whether single-stream programs should revert to multi-stream to increase material quality, there "was no debate," Egosi reported in his summary of the discussion.
Their conclusion? The group responded with "a unanimous no," Egosi said. Attendees cited concerns about major system changes confusing residents, as well as disrupting existing collection systems. The majority of single-stream programs use automated trucks, whereas dual-stream programs largely use non-automated vehicles.
The automated collection factor also brought up the safety implications: Programs that use automated trucks generally see fewer worker injuries because workers don't have to get in and out of the vehicles as much.
Attendees were also unconvinced that the change would have as big of an impact as it might seem.
"The contamination levels between dual-stream and single-stream as reported are very inconsistent on the data wherever you are," Egosi relayed from the sentiment among the session attendees. "It's highly dependent on the education program, much less on the concept of dual-stream versus single-stream."
The responses are at odds with a handful of smaller North American recycling programs that recently made the switch or are working toward it. Resource Recycling in July reported on programs in the U.S. and Canada that have reinstated dual-stream in the past few months or are planning to do so. Some of the program officials pointed to dual-stream collection as a solution to market woes brought on by the disappearance of Chinese companies as downstream buyers.
But the opinions shared at WasteCon indicate not everyone is on board with the idea.
"What it really means is that people have been waking up," said Timpane. "[They] got slapped in the face a little bit and they're a little worried about doing anything but trying to repair what they've got."
Dual-stream was favored in one scenario: If a community has had no recycling program in the past and is beginning one now, the group mostly agreed that dual-stream would be the way to go.
Session attendees also discussed whether it makes sense for MRFs to invest in equipment with the goal of trying to hit China's contamination standards. They also discussed whether programs should consider accepting new materials in the curbside stream.
Similar to the dual-stream question, the equipment issue received little debate and little support: The general consensus was against adding a lot of new equipment in an attempt to meet China's standards. Attendees were a little more open to adding new materials to curbside recycling programs but said now is not the right time. And if new materials add any amount of cost for MRFs, the group said consumers and companies producing that materials should foot the bill for that added cost.
Photo credit: Lawrence Glass/Shutterstock

More stories about collection