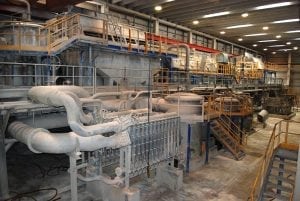 China is proposing tariffs on U.S. pulp made from recycled paper, a material that has received recent attention as a potential export to China to replace recovered paper bales.
The Chinese Ministry of Commerce last week proposed new tariffs on roughly $60 billion in imports from the U.S. The list includes more than 5,000 product codes, and a few have relevance for the recycling industry.
China's list was issued in response to a decision by the U.S. Trade Representative's office to raise previously planned tariffs covering $200 billion in Chinese goods from 10 percent to 25 percent. According to Chinese state media, the U.S. action meant China was "forced to take the countermeasures."
The new Chinese proposal contains four lists with tariffs levied at different levels, from 5 percent to 25 percent. The list of products to be hit with a 20 percent tariff includes "fiber pulp extracted from recycled paper or cardboard."
Multiple industry experts said that would cover any pulp produced from a recycled paper mill.
The proposal comes at a time when imports of recycled pulp are a key topic for Chinese buyers. Chinese mills are experiencing feedstock shortages that are forcing downtime, and fiber research firm RISI recently reported (subscription required) that "the import of recycled pulp has emerged as a viable option."
Fiber consultant Bill Moore told Resource Recycling recycled pulp shipments from the U.S. to China have been negligible in the past. This year, only small amounts are being exported on a trial basis.
But the concept of U.S. fiber companies shipping excess recycled pulp to China has gained traction lately. Many of the top U.S. recovered fiber end users touched on the idea during recent earnings calls.
The tariffs would also impact Chinese companies looking to set up recycled paper mills in the U.S., because their output would be more expensive to ship into China. There have not been major investments in U.S. recycled paper mill capacity by Chinese companies, although Nine Dragons recently purchased two U.S. virgin paper mills that will be used primarily for the company's internal consumption.
Still, Chinese companies are reportedly interested in the idea of investing in U.S. recycled paper processing infrastructure. That type of investment has already begun to take place on the plastics front.
Other impacts
Beyond recycled fiber pulp, the newest back-and-forth between the U.S. and China could have wider reverberations.
Numerous plastic products, both virgin resins and finished goods, appear on both the $200 billion U.S. tariff list and the Chinese list. The American Chemistry Council said the U.S. tariff increase would be "devastating" for chemicals and plastics producers. The industry group also calculated that nearly a fifth of the products included in China's latest proposal are chemicals or plastics, according to ICIS.
Both the U.S. and Chinese lists cover a variety of paper products, as well. The U.S. list names hundreds of paper categories, including all recovered fiber, pulp from recovered fiber, corrugated paper and more. U.S. imports of those products from China are very low, according to customs data.
The Chinese lists also include virgin pulp, corrugated paper, paperboard, newsprint and more.
Photo credit: Moreno Soppelsa/Shutterstock
More stories about exports