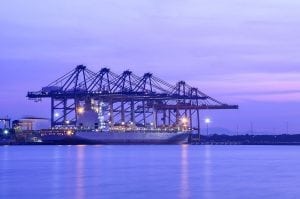 The largest paper companies in China have announced temporary closures due to recovered fiber shortages, and Southeast Asian governments are taking steps to stem the skyrocketing volume of recyclables they've imported this year.
The following is a roundup of recent news related to the recyclables trade with Asia:
Chinese mills face shortages
Fiber research firm RISI reported last week that six major Chinese mill operators will take downtime on more than 40 recycled paper and board machines during the coming month. The companies are temporarily idling the facilities due to a shortage of recovered paper feedstock.
According to RISI, at least six Chinese paper companies will take downtime from now through the end of August. Those companies include Nine Dragons Paper, Lee & Man and Shanying International, which are the three largest paper producers in the country.
Fujian Liansheng Paper Industry, Long Chen Paper and Shandong Sun Paper Industry will also take downtime on recycled fiber machines.
RISI estimates the downtime across all six companies will equate to 360,000 metric tons in cut production. That includes recycled containerboard, recycled cartonboard, newsprint and other grades.
According to Chinese customs data, China imported 7.1 million metric tons of recovered fiber from January through June of this year. That's down from the 14.9 million metric tons imported during the same period last year.
Legislative changes in Vietnam
Meanwhile, Vietnamese officials last week held a press conference to discuss potential policy changes following the recent backlog of containers in key ports.
Officials with the country's Ministry of Natural Resources and Environment said 4,480 containers of scrap materials are sitting at ports operated by Saigon Newport International. About 20 percent was scrap paper and the remainder was other materials, primarily scrap plastic.
In the spring, Saigon Newport International officials announced the backlog meant they would implement new restrictions for scrap imports. Port authorities also imposed a ban on scrap plastic coming through Saigon Newport ports from mid-June through October.
But now, the country's government is moving toward legislative action. During the press conference, officials said the government will be "revising legal documents on the management of waste imports, taking into account environmental protection, as well as putting into place a mechanism to manage, control, and prevent the trade and import of scraps from afar."
According to an online translation of a detailed report on the press conference, the government has a goal "to gradually reduce the import of discarded materials from abroad, and at the same time to increase the reuse and recycling of discarded materials in the country."
In the short term, the government said it will crack down on containers that have been sitting at ports for longer than 90 days. It will also ask ports to "carefully check the environmental permits of the imported scrap containers before allowing them to be unloaded," according to the press conference report. The head of the Vietnam Maritime Administration explained the short-term regulations in an interview with state media.
U.S. exporters sent 147 million pounds of scrap plastic to Vietnam from January through May 2018, up from 85 million pounds during that period in 2017 and 56 million pounds during that time frame in 2016.
In the fiber sector, the U.S. sent 291,000 metric tons of recovered fiber to Vietnam in the first five months of 2018, up from 102,000 during that period in 2017 and 76,000 in 2016.
Government legislation in Vietnam would follow similar actions in Thailand, where the government announced in late June it would immediately ban scrap plastic from entering the country.
In a June 24 news release, Thailand's Department of Industrial Works said it had "issued a prohibition on further imports of electronic and plastic waste effective immediately, and will be proposing to the Ministry of Industry to issue an indefinite ban on these imports in the near future."
U.S exporters sent 174 million pounds of scrap plastic to Thailand from January through May, up from 7 million pounds during the same period in 2017. On the paper front, Thailand brought in 121,000 metric tons of U.S.-sourced recovered fiber during the first five months of this year, compared with about 95,000 metric tons during that time in 2017.
Other Southeast Asian nations have signaled their intent to take similar steps.
Inspection clarification
In the U.S., exporters that still ship material to China are learning the ropes of the country's new pre-shipment inspection guidelines, which are specific to U.S. exporters.
One point of potential contention over the inspections was recently cleared up. The Institute of Scrap Recycling Industries (ISRI) in early July reported concerns from its members that CCIC inspectors were double-charging clients for travel expenses when inspecting multiple facilities in the same region.
But ISRI representatives last week met with CCIC staff in Los Angeles and brought up the concerns. After the meeting, ISRI noted that the inspection agency "clarified that it is now their policy to split the expenses incurred during a single trip by an inspector among all the facilities visited."
CCIC has begun printing the cost-sharing policy on its quotation sheets, ISRI added.
During the meeting, ISRI also learned that CCIC is working to hire more inspectors to fill the increased need that has come with the policy changes.
Adina Adler, ISRI's senior director of government relations and international affairs, said it will take time before new inspectors are fully trained and available to work through the backlog. In the meantime, she said, exporters are being forced to wait "significantly longer before inspections can take place."
"In other words, they are waiting up to two months before they can get an inspector in their yard," Adler said.
Photo credit: Piyathep/Shutterstock
More stories about exports