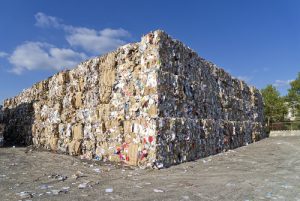 Last month, readers were drawn to stories about how recyclables markets are continuing to feel major impacts from tariff talk and Asian import policies.
The list below shows our top stories published in August in terms of unique page views.
1 | China to enact tariffs on OCC and other recycled paper
In early August, the Chinese government announced plans for a 25-percent duty on key curbside recyclables. Those tariffs went into effect several weeks later.
2 | Where are the current paper and plastics export markets?
To keep up with the top export destinations for U.S.-sourced recyclables, Resource Recycling examined the latest shipping data from the U.S. Department of Commerce.
3 | Low OCC prices continue to benefit U.S. mills
As more Chinese import restrictions roll in, domestic mills continue to pay even less for recovered fiber. Meanwhile, some are looking at how they can supply Chinese buyers with finished product in the future.
4 | The latest pricing for baled paper and plastics
OCC prices have experienced a slight uptick lately, but mixed paper remains at rock-bottom values. Meanwhile, recovered PET and natural HDPE markets remain stronger.
5 | Markets update: More domestic talk as overseas options dwindle
Governments in Southeast Asia are following through on promises to heavily restrict scrap imports. Meanwhile, a U.S. senator has singled out a shuttered West Coast paper mill as a possible outlet for recovered fiber.
Photo credit: www.hollandfoto.net/Shutterstock