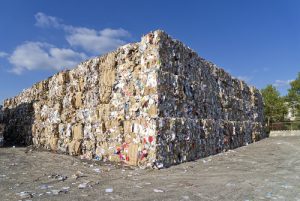 This story has been updated.
The Chinese government plans to levy a 25 percent tariff on U.S. shipments of OCC and other recovered fiber, as well as scrap plastic, in retaliation for the latest U.S. tariff proposals.
China's Ministry of Commerce on Aug. 8 issued the latest list of tariffs the country is planning to implement on imports of goods from the U.S. The list identifies OCC and all other recovered fiber materials among the product codes that would be hit with the 25 percent duty.
The action also covers all scrap plastics sent from the U.S. to China, as well as a number of scrap metals.
The tariffs, which cover a wide variety of product categories in addition to recyclables, cover about $16 billion in imports from the U.S. They are scheduled to take effect Aug. 23, the same day the U.S. plans to enact tariffs on $16 billion in imports from China.
Both countries previously enacted tariffs covering $34 billion in imports from the other country.
China's latest announcement comes one day after the U.S. Trade Representative's office finalized its $16 billion list, which will bring the current U.S. tariffs on Chinese imports up to covering $50 billion in import value.
Although previous tariffs have affected the recycling industry through steel and aluminum pricing and availability, or by their impact on recycling equipment, the new proposal from China marks the first instance of recovered paper and plastic being targeted directly.
The move threatens to further disrupt the North American recycling market, which has been rocked this year by separate Chinese import restrictions on recovered materials. It could also benefit recycling programs and companies outside the U.S., as their exports will not be subject to the tariffs.
Although the Chinese government has indicated plans to phase out imports of all recyclables and bolster its domestic recycling efforts, the country has still brought in a significant amount of recovered material this year.
As Resource Recycling recently reported, China remains the top importer of U.S. recovered fiber, and is among the top importers of scrap plastic despite heavily cutting back its imports of that material.
China imported 2.73 million short tons of U.S. OCC during the first half of 2018 and 1.4 million short tons of all other U.S.-sourced recovered fiber.
The U.S. sent 30 million pounds of scrap plastic to China during the first half of the year.
China has issued permits allowing the import of 14.3 million metric tons of scrap paper this year. The most recent list was issued Aug. 3 and approved the import of 656,160 metric tons of recovered fiber. Plastic import permit volumes remain very low – the most recent list totaled only 444 metric tons, or 979,000 pounds.
An earlier version of this story noted that materials exported from Canada would also be subject to China's proposed tariffs. However, it does not appear that Canadian goods are directly targeted. The story has been updated to reflect that fact. In addition, the story has been updated with recent import permit numbers. 
Photo credit: www.hollandfoto.net/Shutterstock
More stories about exports