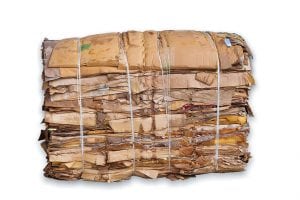 As more Chinese import restrictions roll in, domestic mills continue to pay even less for recovered fiber. Meanwhile, some are looking at how they can supply Chinese buyers with finished product in the future.
Earlier this year, the top North American publicly traded recovered fiber end users estimated their benefits from China's import restrictions would be temporary. They recently reported those benefits, such as lower feedstock costs, continued through the second quarter.
Most of the big players are also discussing potential strategies to supply Chinese producers with finished product made from recycled paper. China's manufacturers are struggling.
"China's got a dynamic economy," said Mark Sutton, CEO of International Paper. "It's going to need fiber in the long-term."
In the short term, North American fiber buyers continue to pay less for feedstock – and for the most part, they anticipate that will carry on at least through the end of 2018.
Resource Recycling analyzed recent quarterly earnings calls from some of the largest publicly traded recovered fiber consumers in North America: Cascades, International Paper, Packaging Corporation of America, Resolute Forest Products, Sonoco and WestRock.
OCC reaching a floor
Companies across the board saw a decrease in OCC costs, continuing a trend that was already pronounced during the first quarter.
International Paper's costs "decreased sequentially" during the second quarter because of China's ongoing import restrictions. China, Sutton said during the company's July 26 earnings call, is "the big lever" in determining where prices go in the future.
It was a common thread that emerged in each company's report.
Cascades saw its costs to buy OCC fall by 52 percent year-over-year in the second quarter. Prices fell by 23 percent compared with the previous quarter. That added $9 million in Cascades' profitability, company officials said.
Luc Langevin, the company's president and chief operating officer of specialty products, said the current average of $65 per ton for OCC is "probably approaching a floor level." If the price goes any lower it would impact OCC recovery efforts because it might not make sense to continue collecting at that point.
"These additional potential tariffs and a ban in 2020 is just reinforcing our view that the material (pricing) will not go up," Langevin said during the company's Aug. 9 call, referencing the OCC tariff that was announced the day before Cascades' earnings call.
Allan Hogg, Cascades' chief financial officer, said the company doesn't expect to see any upward movement on OCC pricing for the rest of the year. He anticipates the price could drop by $5 or $10, but echoed Langevin's point about OCC currently approaching a price floor.
"Lower than that, that would be impacting the supply chain," he said.
WestRock's recycled fiber costs have continued to decline, said Steve Voorhees, CEO of the company. WestRock, which held its earnings call on Aug. 2, paid an average of $78 per ton throughout the quarter, down from the $102 per ton it paid in the previous quarter. Despite the drop, lower costs were not enough to offset increases in other areas, including the spike in freight costs.
Jeff Chalovich, president of WestRock's corrugated packaging division, said China's pre-shipment inspection requirements are causing a slowdown and "almost a stop of OCC going to China." Pricing will depend on what China does, Chalovich said.
WestRock's consumer packaging mills used 1 million tons of recycled fiber in the 12 months preceding the end of the quarter. During that same period, the company's corrugated mills used 4 million tons of recovered fiber.
Sonoco Products saw near-record margins during the second quarter, driven in part by low feedstock costs. Sonoco Recycling, the company's materials recovery division, collects, sorts, and sells recycled materials.
Company CEO Rob Tiede during the July 19 call stressed that the company is in the recycling business not just to sell material onto the market but to "have a steady source of fiber coming into our paper mill system, and that is going to remain a focus for us."
Tiede noted Sonoco previously paid for certain materials coming into its MRFs from municipal programs. Now, Tiede said, "that pendulum has swung differently" and the company is looking at charging for some activities.
According to the latest figures, the national average price for OCC is currently $70.63 per ton and mixed paper is at $1.56 per ton.
Adjusting to the opportunity
Major U.S. fiber companies commented that Chinese manufacturers still need to obtain feedstock to run their factories.
"They can get it through containerboard, they can get it through pulp, they can get it through recycled fiber," said Chalovich of WestRock.
Thomas Hassfurther, executive vice president of corrugated products for Packaging Corporation of America (PCA), noted China seems to be pushing to support a domestic recycling system. But he noted there has to be a supply of virgin fiber to make that system sustainable.
"They've got to get their virgin fiber somewhere, and then it's primarily probably going to come from the U.S.," he said during PCA's July 26 report. Nine Dragons' recent purchase of two U.S. virgin fiber mills, the company's first U.S. investment, may serve to back up that point.
"I think they're probably looking at the potential of exporting containerboard or pulp or whatever the case might be back into China," Hassfurther said.
Some North American companies are looking at the same possibility.
Resolute Forest Products CEO Yves Laflamme said his company is interested in shipping recycled paper pulp made from OCC to China. There's "no option that we're not looking at," he said during the Aug. 2 earnings call.
Tiede of Sonoco, which held its earnings call shortly after China released a draft plan to ban all recovered material imports in the near future, described a ripple impact of more U.S. pulp shipments to China. That trend would be "fantastic" for Sonoco, he said, opening up new downstream buyers for the company's tube and core products, which paper mills buy as packaging to ship pulp and other raw paper materials.
Transcripts of the earnings calls were provided by SeekingAlpha.
Photo credit: sergio34/Shutterstock
More stories about fiber