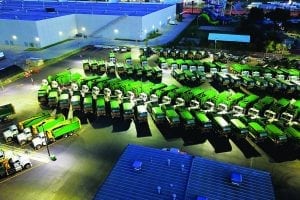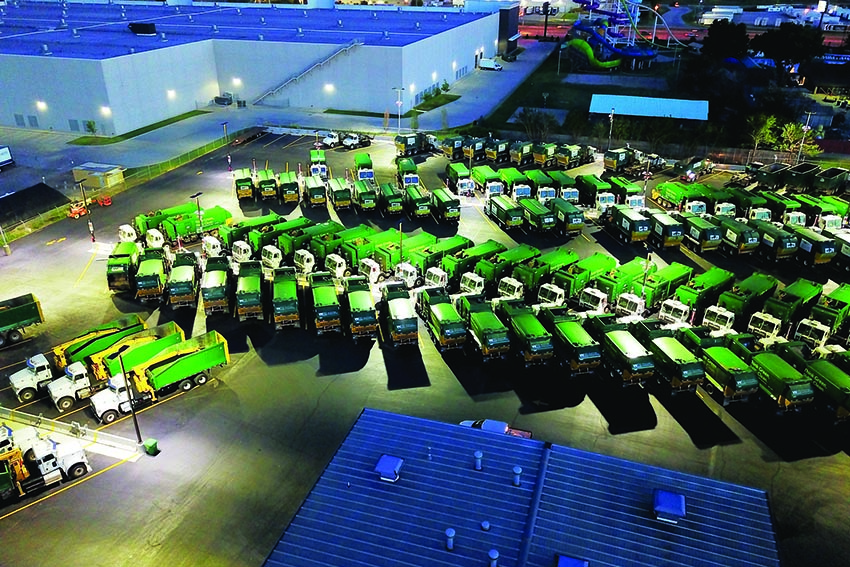 Export market shifts are slashing into recycling revenues for Waste Management and others, with poor fiber prices cutting one company's recycling revenues in half.
Waste Management, Republic Services and Waste Connections, the first-, second- and third-largest residential hauling and recycling companies in North America, recently reported their second-quarter financial results.
In quarterly filings with the U.S. Securities and Exchange Commission (SEC) and calls with investment analysts, company executives pointed to pain in the recycling markets. The downward recycling revenue trend was also visible during the first-quarter and 2017 end-of-year reports. But the executives noted their results in the second quarter were strong overall, driven by a healthy economy.
Waste Management
The Houston-headquartered company's recycling business reported $305 million in revenue during the second quarter, down 19 percent year over year. Revenue for the first half of the year totaled $617 million, down 17 percent year over year.
The decline was because of lower prices fetched for recovered commodities. China's actions limited the company from selling fiber to Chinese mills. During the second quarter, Waste Management's average price for recyclables was down 43 percent compared with the prior-year period.
"Disruptions in the global movement of recycling commodities continued to reduce market prices in the current year periods," according to the company's quarterly filing. "We expect these disruptions in the market to extend through the remainder of 2018, and likely beyond, which will continue to put downward pressure on average market prices for recycling commodities."
During a July 25 conference call with analysts, CEO Jim Fish said the company has been hit with three factors: lower commodity prices, year-over-year increases in  processing costs (of 12 percent to 15 percent), and higher costs for shipping commodities to markets such as India and Vietnam instead of China.
Jim Trevathan, Waste Management's chief operating officer, noted the company previously took steps to recover costs from customers that were providing excess contamination.
"We are pleased with the results so far and expect to see improvement in the second half of the year," he told investors, according to a transcript provided by Seeking Alpha. "We will continue to work on improving the recycling business because it's a service that our customers desire,  and our shareholders deserve an appropriate return on invested capital from our recycling assets in any economic climate."
Recycling now make up 8 percent of Waste Management's overall revenue, which during the second quarter was $3.74 billion. That total revenue was up 1.7 percent year over year.
Republic Services
Republic's recycling business brought in $68 million in revenue during the second quarter, down 7 percent year over year. For the first half of the year, recycling revenue totaled $144 million, down 5 percent year over year. (The company's press release showed massive drops in recycling revenue. That's because starting in 2018, recycling rebates paid to customers were recorded as a reduction in revenue. In prior years, they were listed under "cost of operations." The numbers above were included in a pro-forma sheet showing apples-to-apples year-over-year comparisons.)
According to the Phoenix-headquartered company's quarterly filing, the company also felt the sting of lower fiber prices. During the second quarter, Republic fetched an average of $81 for a ton of OCC, down from $174 a year earlier. The average ONP price was $52 a ton, down from $95 during the second quarter of 2017. Chuck Serianni, Republic's chief financial officer, told analysts during a July 26 conference call that average commodity prices (excluding glass and organics) were $91 per ton in the second quarter, down from $157 a year earlier.
Republic CEO Donald Slager told listeners China's actions have led to a market with lower commodity values and higher processing costs. While those are painful in the short term, "we believe these market conditions will serve as the catalyst needed to transform recycling into a durable, sustainable business model, a model in which companies can continue to invest for the benefit of their communities without undue risk," he said, according to Seeking Alpha.
Republic is working to shift municipal customers to a fee-based pricing model "with a more equitable risk-sharing arrangement." Working with its 1,100 municipal recycling customers, the company is requesting an immediate price increase and adoption of a new pricing structure at or before contract renewal, Slager said. Of the customers Republic staff have met with to date, 10 percent have agreed to an incremental price increase within the next six months.
"And another 60 percent are reviewing and approving price adjustments or considering implementing the new pricing structure by the next contract cycle," Slager said. "Typically, negotiations with staff and city council approvals take months to obtain. So, we're extremely pleased with the initial results of these concentrated efforts over the past 90 days."
Under the new accounting approach, recycling makes up less than 3 percent of Republic's revenue. Overall company revenues during the second quarter came in at $2.5 billion. That was an increase of 4 percent over the prior year, excluding the impact of the new revenue standard.
Waste Connections
Toronto-headquartered Waste Connections' recycling business brought in $22.7 million during the second quarter, down a whopping 48 percent year over year. The company's recycling revenue for the first half of 2018 totaled $46.2 million, down 47 percent over the same period in 2017.
The drops were mostly because of falling prices for OCC and other fiber products, as a result of softening overseas demand, according to the company.
Ronald Mittelstaedt, Waste Connections' CEO, told analysts during a July 25 conference call that prices for OCC averaged about $95 per ton during the second quarter, down 45 percent year over year. Mixed paper took an even worse beating, dropping nearly 80 percent year over year.
Mittelstaedt said zero or very little material is going to China; however, the company is exporting one-quarter of its recyclables to various regions. And, in the second quarter, it began exporting recyclables to Europe for the first time, he said.
When asked about China banning all recovered fiber imports, Mittelstaedt said he hopes the country does. A flat-out ban would stimulate development of more mills and markets domestically, which is good for the cost structure of the business, he said.
"That puts a final stake in the ground that forces us as an industry, public and private and municipal, to relook at this whole recycling model and create a model that is sustainable on its own indefinitely," Mittelstaedt said, according to a Seeking Alpha transcript. "That is how recycling will become a successful business for everybody involved with it."
"That will cause pain for the industry," he later added, "but it will fix the problem once and for all."
Total company revenues during the second quarter were $1.24 billion, up more than 5 percent. Recycling now makes up less than 2 percent of Waste Connections' revenue.
Photo credit: Waste Management
More stories about markets