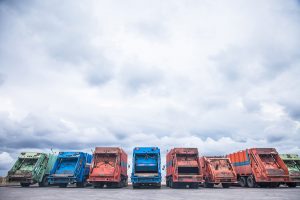 For North America's largest garbage and recycling companies, 2017 overall was a good year in recycling. That being said, the fourth quarter was a bad one for the industry.
Resource Recycling recently looked at financial results for Waste Management, Republic Services, Waste Connections and Advanced Disposal Services. A clear pattern emerged for 2017: A strong winter, spring and summer gave way to a rough autumn, a result of China's restrictions on imports of recyclables.
Low commodity prices have continued into this year, and China will begin enforcing tighter contamination limits in March. In response, Waste Management, the largest company by far, plans to invest in sorting technologies and begin charging customers for contamination.
"I don't think it's overstating it … to say we're going to go to battle against contamination here," Jim Fish, Waste Management's CEO, told investors on a Feb. 15 conference call. "And I think that's better for us economically. It's also better for the environment."
The following are details for Waste Management, Waste Connections and Advanced Disposal. Earlier this month, Resource Recycling covered results for Republic Services, which released its 2017 financial results on Feb. 8. Republic saw a 28 percent bump in revenue from its recycling business last year.
Waste Management
The largest residential garbage and recycling company in North America markets recyclables processed through its own MRFs (the company now operates 90 facilities) and its brokerage service.
Waste Management's recycling revenues increased by 17 percent last year, to $1.43 billion. Higher recovered commodity values drove an increase of $237 million in revenue.
For the full year, average prices for commodities processed through company MRFs were 27 percent higher year over year. During the fourth quarter, however, average prices fetched for commodities processed through company MRFs decreased 8.1 percent year over year. Recycling volumes also dropped, a result of Chinese authorities cancelling and limiting renewals of import licenses. The result was a year-over-year decrease of $25 million in recycling revenue during the fourth quarter.
"Beginning in September 2017, disruptions in the global movement of recycling commodities and the impact of natural disasters along the Gulf Coast decreased market prices for recycling commodities," according to Waste Management's SEC filing. "We expect these disruptions in the market for recycling commodities to extend through the first half of 2018, which will continue to put downward pressure on average market prices for recycling commodities."
The lower market prices, combined with contamination-fighting cost increases, mean Waste Management is expecting lower earnings from its recycling business this year. In the Feb. 15 call with investors, Jim Trevathan, Waste Management's chief operating officer, said the company expects China to strictly enforce its 0.5 percent contamination limit on recyclables that weren't outright banned as of Jan. 1. That 0.5 percent standard goes into effect March 1.
According to Seeking Alpha's transcript of the call, Trevathan said the company is getting more aggressive about trying to reclaim contamination costs in both public-sector agreements and contracts for third-party volumes.
Fish said that because of China's enforcement of its quality standards, his company also sees an opportunity to build "a recycle plant of the future that will provide solid, less volatile returns for our shareholders, meet the quality control requirements of our mill customers and continue to provide a sustainable recycling outlet for our customers."
Among other things, that will mean partnering with equipment manufacturers to innovate on next-generation equipment, he said. Robotics plays into that.
"We're currently piloting a fully robotic sort line," Fish said. "Depending upon the outcome of our pilots, our plan would be to move from test to production in the next few years."
Waste Management's total revenue in 2017 was $14.49 billion, an increase of 6.4 percent over the year before. Recycling makes up 8 percent of the company's revenue pie.
Waste Connections
Waste Connections' recycling business brought in $152.77 million in 2017, up from $85.52 million the year before. An apples-to-apples full-year comparison for Waste Connections is complicated because the company acquired Progressive Waste Solutions, its largest acquisition ever, on June 1, 2016.
Looking only at sales of material from MRFs the company owned in 2016 and 2017, however, higher commodity values brought in more revenue last year. Specifically, they were responsible for generating an additional $19.5 million in 2017. The increase was because of the higher values seen during the January-August period. Prices began to decline in September "due to a reduction in overseas demand," according to the company.
During the fourth quarter of 2017, Waste Connections' recycling business brought in $26 million, excluding the impact of acquisitions. That was down about 10 percent year over year. One reason was a nearly 60 percent drop in the value of mixed paper, Ronald Mittelstaedt, Waste Connections' CEO, told investors on a Feb. 15 conference call. Recovered fiber prices fell in early October, particularly mixed paper, he said. OCC, at about $121 per ton, was down 3 percent year over year and 34 percent from the third quarter. OCC is currently averaging about $100 a ton, Mittelstaedt said.
If the January 2018 prices were theoretically held through the entire year, Waste Connections would see a $45 million, or 30 percent, drop in recycling revenues this year.
Waste Connections' total revenue was $4.63 billion last year, compared to $3.38 billion in 2016. Of the increase, about $1 billion was a result of acquisitions. Recycling makes up more than 2 percent of the company's revenue pie.
Advanced Disposal Services
Ponte Vedra, Fla.-based Advanced Disposal brought in $33.2 million from the sale of recyclables last year, up a whopping 47 percent over the year before.
As was the case with the other publicly traded giants, however, the fourth quarter brought pain. During that period, Advanced Disposal generated $5.6 million from the sale of recovered commodities, down 11 percent year over year.
Steven Carn, Advanced Disposal's chief financial officer, told investors on a Feb. 23 conference call the company sees the fourth-quarter commodity prices as being the trend for this year.
On the call, Richard Burke, Advanced Disposal's CEO, said the company is currently selling recyclables for $65 a ton less than it was in July 2017, a result of China's policies.
"U.S. domestic mills are being smart and they realize export's down, so they can control the price better and they're driving the price down," Burke said. "There's no indicator right now to expect that recycling prices get better in '18. I'm not sure where the bottom is, but … we don't think we're there yet."
In discussing ways to mitigate market impacts, Burke said the company is seeking to continue to have customers shoulder more of the risk. Right now the company keeps about 70 percent of the revenue and the customer gets back 30 percent, he said, but company leadership wants to drive that to a 50-50 split.
"I don't think that's unique to Advanced," Burke said. "I think the sector, in general, is moving to get a return on investment off our service and share the commodity risk with the client."
According to a press release, the company's total revenue was $384 million during the fourth quarter, up 9 percent over the prior-year period. The sale of recyclables makes up about 2 percent of the company's revenue pie.
Photo credit: Nitikorn Poonsiri/Shutterstock
More stories about markets