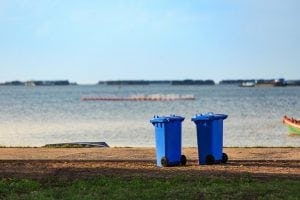 A $1 million grant from the Coca-Cola Foundation will kickstart a program to buy lidded recycling carts for coastal U.S. communities.
The grant will provide funding for communities to switch from open-top receptacles to lidded carts.
"We know from experience and research that providing lidded curbside recycling carts is part of the solution to curbing marine debris in developed countries," Keefe Harrison, CEO of The Recycling Partnership, stated in a press release. "By providing households with a lidded container, we can help ensure that recyclables stay in the recycling stream and don't end up in our oceans, rivers and lakes."
U.S. communities fronting oceans and seas will be eligible to apply, as well as those along the Mississippi River and the Great Lakes. Programs in U.S. territories are also included. The Recycling Partnership in July will announce a request for proposals. Cart grants will be awarded on a rolling basis. As part of the grants, The Recycling Partnership will team up with local organizations for litter and beach cleanups.
The Coca-Cola Co. is already one of The Recycling Partnership's largest funding partners. Not counting the $1 million donation from its foundation, Coca-Cola Co. has provided The Recycling Partnership with $2.3 million over the past four years. Sarah Dearman, Sustainable Packaging Program director for Coca-Cola, is also chair of The Recycling Partnership's board.
Photo credit: Matee Nuserm/Shutterstock
More stories about industry groups