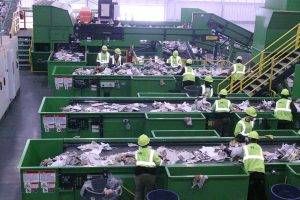 Feeble fiber markets and China's next steps on recyclables drew our readers' clicks last month.
The list below shows our top stories published in April in terms of unique page views.
1 | What depressed OCC means for the recycling industry
A major portion of the single-stream mix has fallen sharply from record high prices a year ago. Industry stakeholders recently opened up on the factors behind the shift, and how it's impacting U.S. recycling operations.
2 | Recycling markets hammer Waste Management
Facing rock-bottom fiber prices, Waste Management's recycling revenues experienced a 16 percent decrease during the first quarter of 2018.
3 | China's ban hits additional materials
Chinese authorities plan to halt imports of more scrap categories by the end of the year, including post-industrial scrap plastic and a variety of scrap metals. The country also announced a list of even more imports it will ban by the end of 2019.
4 | Details on upcoming U.S. recycling projects from Chinese firms
The U.S. has become a focus of investment for a small yet growing portion of the Chinese scrap processing industry. Backers of two in-development operations note they are looking for regulatory stability and a strong supply of recyclables.
5 | Coffee pod recycling comes to West Coast city
A Nespresso-backed recycling program for single-use aluminum coffee capsules has moved from the 'burbs to the big city in British Columbia.