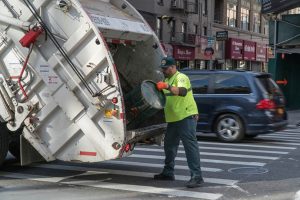 Six East Coast states experienced seven waste and recycling deaths in only the first week and a half of 2018, according to an industry group.
The Solid Waste Association of North America (SWANA) said the fatalities occurred in Georgia, Massachusetts, New York, North Carolina, Pennsylvania and Virginia. Six of them involved collectors.
"I am very disappointed by the number of fatal incidents in the first 10 days of 2018; each of them is a tragedy and serves as a reminder that the entire industry needs to improve its safety culture," David Biderman, SWANA executive director and CEO, stated in a press release. "We urge companies and local governments to not only take the time to educate supervisors and employees, but also commit to making safety a workplace priority. Nothing we do at SWANA is more important."
The announcement came shortly after the federal government released updated data for on-the-job deaths of refuse and recyclables collectors. In 2016, 31 collectors were killed, according to the Bureau of Labor Statistics.
More stories about data