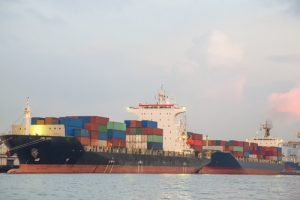 Chinese authorities have announced the country will prohibit some grades of recovered paper and plastic from being imported by the end of 2017. One U.S. group said that action would have a "devastating impact" on the wider recycling sector.
In a July 18 filing with the World Trade Organization (WTO), China's Ministry of Environmental Protection said recovered mixed paper – as well as recycled PET, PE, PVC and PS, textiles and vanadium slag – would be banned from import into the country later this year.
The WTO filing references recent Chinese government efforts to clamp down on the quality of recovered material imports into the country. Through those actions, "we found that large amounts of dirty wastes or even hazardous wastes are mixed in the solid waste that can be used as raw materials," the environmental ministry wrote.
"This polluted China's environment seriously," the filing continues. "To protect China's environmental interests and people's health, we urgently adjust the imported solid wastes list, and forbid the import of solid wastes that are highly polluted."
An adoption date has not been specified, but the filing indicates the ban will take effect by the end of the year. Reuters reported the development on Tuesday.
The WTO filing confirms rumors that have spread through the recycling industry since a Chinese reform committee in April advised the government to reduce the volume of recovered material imports. That single announcement led to fears the country would completely ban imports of some recyclables. China is a top downstream destination for recovered materials from the U.S. and other countries, and its potential disappearance as a destination for low-grade recyclables had industry insiders nervous.
The imports ban has been framed as a way for China to build up its domestic materials recovery infrastructure. But the WTO filing indicates at least part of the motivation is focused on quality control and pollution reduction.
At the same time, China's National Sword enforcement campaign has aimed to crack down on smuggling operations and importers using illegal permits to ship scrap materials into the country.
U.S. industry responds
The Institute of Scrap Recycling Industries (ISRI) quickly condemned the ban, stating it would have a "devastating impact" on recycling on a global scale and in the U.S.
"More than 155,000 direct jobs are supported by the U.S. industry's export activities, earning an average wage of almost $76,000 and contributing more than $3 billion to federal, state, and local taxes," Robin Wiener, ISRI's president, noted. "A ban on imports of scrap commodities into China would be catastrophic to the recycling industry." She added that China is the largest customer for U.S. recyclables.
Shortly after the announcement, ISRI briefed U.S. officials with the Office of the United States Trade Representative and the U.S. Department of Commerce on the potential impact.
In an interview, Steve Alexander, executive director of the Association of Plastic Recyclers, said the plastics recycling industry has been adjusting since the Green Fence initiative in 2013. With this year's National Sword campaign and rumors building of further action, the ban was "not a complete surprise," he said.
APR will be working to gather information and resources on the likely impact of the ban on the plastics recycling industry. Although the initial news of an imports ban is jarring for the industry, Alexander said APR plans to look at the situation from an optimistic standpoint.
"It could mean more material staying on these shores, there could be a potentially positive outcome," he said. "It all remains to be seen."
Inspections find widespread violations
The ban announcement comes as authorities have boosted inspections of Chinese recycling facilities.
Two-thirds of Chinese recycling companies scrutinized as part of a new round of heightened inspections this month have been found in violation of environmental rules. Some were found in a shuttered state, but those in operation face year-long import permit revocations.
During the first two weeks of July, authorities investigated nearly 900 facilities with licenses to import scrap plastics. The inspections have been framed as a pollution control crackdown.
The results of those inspections were reported on China Central Television (CCTV) this week, and a translation of the report was provided to Resource Recycling by Steve Wong of the China Scrap Plastics Association.
Some of the facilities were found already shut down. Fifty-three locations were completely closed down when inspected, and 383 sites had already suspended production.
Of the facilities investigated to date, 590 were found with rule violations. Wong reported that "factories with rule violations found will have import permit applications suspended for one year." When those companies later seek to renew their import permits, they will be subject to more scrutiny by the Ministry of Environmental Protection.
Authorities plan to inspect nearly 1,800 facilities by the end of the month.