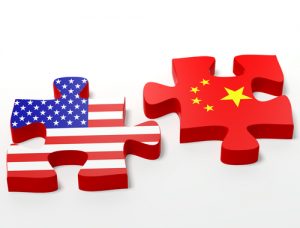 China's three-month-old import action has stalled shipments of some recovered materials from the U.S. and led to substantial import fee increases for shipments that do clear customs.
As the realities of the National Sword customs crackdown set in, observers are examining the long-term effects it could have on U.S. materials recovery, particularly as China's government says it plans to further restrict scrap imports.
"I'm really, really concerned about the impact this is going to have on recycling in [the U.S.], because we've gotten so used to being able to move that material to export," said Patty Moore, a longtime recycling expert and president of Sustainable Materials Management of California.
Many materials recovery facilities (MRFs) are unequipped to produce the high grade of paper China is now demanding, for example, leaving few downstream markets for the material.
"We don't have enough infrastructure in this country to handle all that we're collecting," Moore said. "That could be a real disruptor."
'It's not going anywhere'
In the plastics realm, a longtime California-based exporter told Resource Recycling the Sword crackdown is having a greater impact than 2013's Green Fence campaign, particularly because exports did not fully recover after Green Fence officially ended. The exporter, who asked to speak on condition of anonymity for fear of possible repercussions with Chinese authorities, moves several different resins.
Green Fence cut the exporter's volume by about 40 percent, and National Sword has led to at least another 40 percent reduction. In terms of shipping volume, the crackdown is primarily impacting post-consumer mixed plastic imports, said the exporter.
"It's not going anywhere," the exporter said. "You cannot go to China, you cannot clear it."
The cleaner material can still go through, the exporter said, meaning U.S. companies with higher processing capabilities could fare better than those dealing only in low grades. But the ones who are able to clean and pelletize it in the U.S. probably don't need to send it to China, the exporter said, because there are plenty of domestic markets for clean material.
Moore theorized part of the impetus for the campaign came from a misunderstanding outside of the scrap industry about which materials have value. Mixed-plastic bales, in particular, might appear contaminated.
"What's happened is that it looks bad, and so people think it is bad," Moore said.
The U.S. relies on Hong Kong and the rest of China for scrap plastics exports. In the category of all plastics other than PET, the U.S. exported 308,000 metric tons to Hong Kong and 180,800 metric tons to the rest of China in 2016, according to U.S. Census Bureau data. Those destinations accounted for 69 percent of all exports of scrap plastics other than PET last year.
Hong Kong serves as an initial destination for many shipping containers ultimately headed to the rest of China.
Financial squeeze
Increased import fees have also marked the Sword campaign. In some cases, transporting material from Hong Kong into China has been met with large forwarding fee increases. The increased costs were phased in over the course of two months, the exporter said, with increases of a couple thousand renminbi (RMB) from week to week.
Steve Wong, chairman of plastics recycling company Fukutomi, said prices for materials exports to China have absorbed a 100 percent increase in forwarding cost, from RMB 20,000 (about $2,900) up to RMB 40,000 ($5,800).
For domestic U.S. buyers who have the ability to handle mixed plastics, the restricted Chinese market has allowed them to begin charging for mixed-plastics bales rather than paying for them, Moore said, since there are so many sellers looking for alternatives to China.
A number of small Chinese buyers working only in low-grade plastics may be closing due to the lack of imports. The California exporter is storing in a warehouse some material that a buyer in China has already purchased but advised against shipping for the time being.
"It's not a very pretty picture," the exporter said.
Declining exports out of the U.S. could have ripple effects economically. According to a recent study by the Institute of Scrap Recycling Industries (ISRI), U.S. recovered commodities exports generate $28.85 billion in total economic benefits.
Materials bans
As the Sword continues to fall, another arm of Chinese enforcement is raising concerns about future prospects for flat-out ban on imports of recovered materials into China. On April 18, a government task force approved a "prohibition on import of (selected) solid waste in promotion of reform on solid waste imports management."
Wong, who is also executive president of the China Scrap Plastics Association, told Resource Recycling the policy will "effectively ban the import of plastic scraps and some other solid waste by stage and category before (the) end of 2018."
Such a materials ban will have a "profound" impact on Chinese importers, Wong said, and many are exploring moving their operational bases to Southeast Asian countries. Others are looking for opportunities to recycle at the source of scrap generation. The Chinese government is also encouraging domestic manufacturers to recycle their scrap materials, reducing demand for imports.
With the Sword end date unclear, and the prospect of longer-term bans in China's future, companies are working to adapt to the new reality of scrap trading in China. In the past few years, Fukutomi has "embarked on the program of market diversification" and now has operations in Hong Kong, Malaysia and Vietnam.
More efforts will be made toward this goal, Wong said, as the company keeps an eye on the Chinese market.
Meanwhile, in the U.S., the exporter said companies are also working to open markets in Southeast Asia, but that it can't happen overnight. Some exporters might not survive long enough to open those markets, and more and more companies are considering closing or consolidating.
"I think about it every day," the exporter said.
Other stories related to exports