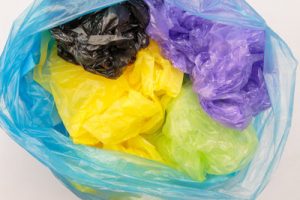 When it comes to plastic bag legislation, 2017 may be the storm after the storm. After the high-profile battle over California's statewide plastic bag ban, legislators in at least 16 states have introduced bills related to bags this year.
Last fall California became the second state — and, by far, the largest — to have a statewide ban on plastic bags go into effect (all of Hawaii's counties have passed plastic bag bans).
Now, legislators in a number of states are looking to mimic the Golden State's move, and others are working to prevent a domino effect in their jurisdictions.
According to the Institute of Scrap Recycling Industries (ISRI), which tracks recycling-related legislation, 13 of the bills introduced this year either ban, impose a fee on or otherwise encourage retailers to abandon plastic bags, with many also imposing labeling and minimum-recycled-content requirements.
Laying down limitations
Much of the legislation aimed at bag limits is being seen in the eastern part of the country.
Legislation under consideration in Maine, Massachusetts, New Jersey, Rhode Island and Vermont would ban thin plastic bags.
Florida is considering giving coastal communities with populations under 100,000 the authority to ban or otherwise regulate them (it currently prohibits all local bans and fees). New Hampshire is also considering giving municipalities the power to ban or impose fees.
Pennsylvania is considering a bill that imposes a 2-cent fee on thin plastic bags. Half of the money collected by the state from any retailer could be returned as a grant if the company uses it "for the improvement of recycling practices, education and compliance with" the law. The state keeps the other half to fund recycling programs.
Washington is also considering a 2-cent fee on bags, but all of that money would go into its general fund. Connecticut is considering a 5-cent fee, with proceeds going into an environmental fund.
Defending bags
Other states are going the opposite direction by considering bills that would prohibit local governments from banning or taxing bags. Before this year, Arizona, Florida, Idaho, Indiana, Michigan, Missouri and Wisconsin have all enacted statewide bans on local bans. Now, elected leaders in Iowa and South Carolina have introduced bills prohibiting local governments from regulating bags.
And then there's New York, which recently approved a law temporarily blocking New York City from imposing a plastic bag fee. That action likely won't be the final word on bags in the Empire State, however.
New York state lawmakers are looking at a range of bag-related bills, some permanently blocking the Big Apple's bag fees and others requiring grocers around the state to charge for bags. And then there's a bill that would create a statewide "Pennies for Parks" program, which would use a 1-cent tax on bags to fund parks.