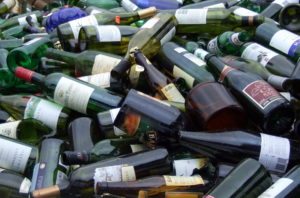 Not surprisingly, the great glass debate is continuing into 2017. Four municipalities from different corners of the country recently made moves or began discussions to try to recover glass in a more cost-effective manner.
Leaders in the Big Easy are making it a bit more difficult to recycle glass in downtown and the French Quarter. New Orleans will end its curbside collections of glass in those areas, citing low participation, but will accept it at a drop-off depot, according to The New Orleans Advocate.
Oak Ridge, Tenn. has also decided to stop accepting glass through its curbside recycling program, reports Oak Ridge Today. The action comes after Waste Connections opted to no longer accept glass at its area materials recovery facility
Tacoma, Wash., meanwhile, is pondering whether it should maintain its current system of having residents keep glass separate from other single-stream materials at the curb. The City tells the News Tribune that if residents instead put glass in the single-stream cart, it  will save the City nearly $300,000 annually. Recycling advocates worry about contamination repercussions from the proposed shift, however.
Finally, the City of Coeur d'Alene in northern Idaho is deciding what to do with its glass. The Spokesman-Review said the city's new contract calls for glass to be collected via drop-off locations, not curbside. But it's still unclear where that material will head once it's collected.
These municipal moves in the glass recycling arena follow a host of others that grabbed the attention of the recycling industry throughout 2016. Arguably the biggest glass recycling story last year unfolded in Houston, where city leaders agreed to a contract with Waste Management in which glass was yanked from the curbside mix. In addition, a report out of Atlanta showed that some glass collected in that city was actually being landfilled, and a number of other municipalities removed the material from curbside programs.
However, several initiatives in recent months have brought stakeholders together to try to find market-based solutions to keep glass recycling simple for residents. And efforts in Colorado and Quebec, among other areas, have bolstered glass processing operations at materials recovery facilities and helped keep municipal glass programs intact.