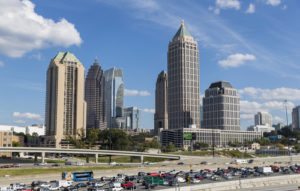 Waste and recycling technology company Rubicon Global will provide its software capabilities to the City of Atlanta free of charge for six months. The Atlanta-headquartered company offered its software tool to help the City improve residential route efficiency, track diversion rates and target outreach to households.
The Atlanta City Council on Oct. 17 voted unanimously to go forward with the project. The vote gave the city's administration authority to accept free services from Rubicon valued at nearly $444,000, according to council documents. According to a Rubicon press release, it's the first public-private partnership for the company, which is involved in boosting diversion rates and lowering waste management costs for large commercial customers.
As part of what Atlanta is calling its waste data pilot project, Rubicon's mobile app for haulers will be installed on smartphones in the entire city collection fleet, which serves about 96,000 households. In addition, the Department of Public Works will utilize the company's desktop vendor portal, which works with the mobile app. The tools will provide the city with real-time recycling rate data, help officials target recycling education outreach efforts and allow the city to optimize collection routes, according to Rubicon.
According to the city, the technology will also help it improve customer service and increase code enforcement capabilities.
A report from the city's procurement department said Rubicon offers technology no other company provides, including its "shake" technology, which measures vibrations from containers being emptied into collection trucks to generate real-time service confirmations.
"Rubicon is unique in the waste management field of having a zero waste goal, unlike others in the market that have a profit motive based on tipping fees and generating more waste for landfills," according to the report.
The council's decision did not commit the city to spending money on the technology following the six-month trial period.