U.S. companies exported about 22% less scrap plastic during the first nine months of this year, continuing a trend of decreased overseas shipments.
The U.S. exported about 737 million pounds of scrap plastic over the course of the first three quarters, down from 941 million pounds during the same period in 2021. 
The U.S. Census Bureau recently published data for September, allowing Resource Recycling to crunch numbers for 2022 through September. The first-half 2022 analysis was published in early September.
Here were the top 10 downstream destinations for U.S. scrap plastics during the first nine months of the year (story continues below chart):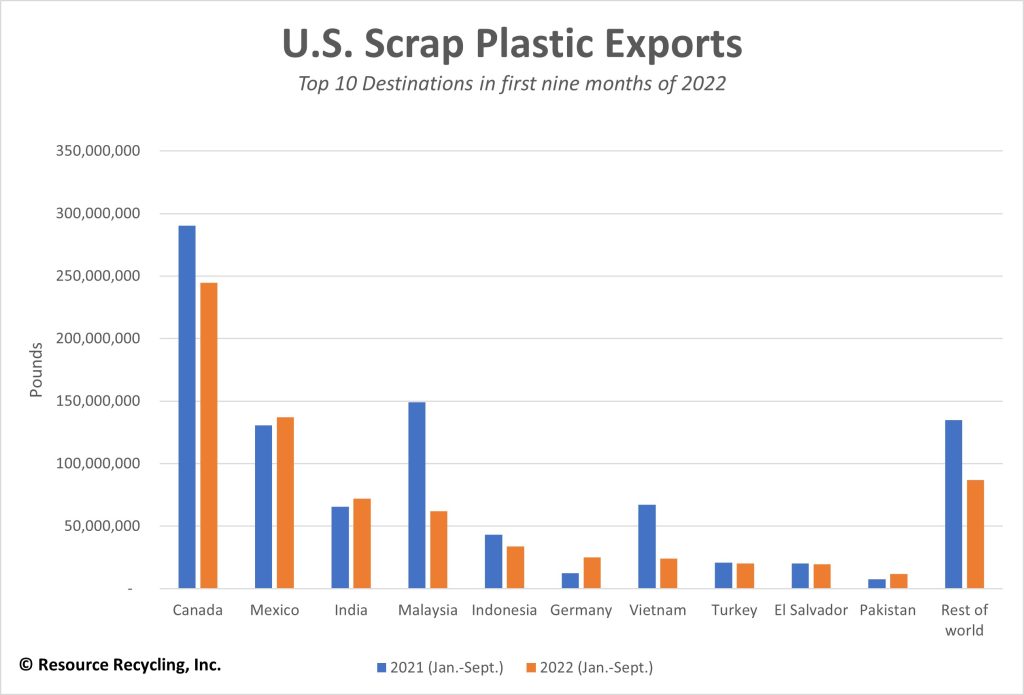 Canada received nearly 245 million pounds (down 16% year over year), Mexico 137 million pounds (up 5%), India 72 million pounds (up 10%), Malaysia 62 million pounds (down 58%), Indonesia 34 million pounds (down 22%), Germany 25 million pounds (up 105%), Vietnam 24 million pounds (down 64%), Turkey 20 million pounds (down 2%), El Salvador 19 million pounds (down 3%) and Pakistan 12 million pounds (up 56%). The rest of the world took in 87 million pounds (down 35%).
The top 10 list for the first nine months of 2022 included a few changes. Germany and Pakistan rose to the top 10 list in 2022, and Taiwan and Hong Kong fell off.
More stories about exports