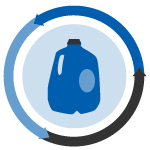 An equipment provider released a melt filter for very high throughputs, and virgin plastics companies invest in pyrolysis technologies. 
EPS unit coming on-line: GreenMantra Technologies has commissioned a demonstration facility to process scrap EPS into specialty polymers. The Brantford, Ontario company uses a controlled, partial depolymerization process to convert scrap polyolefins into industrial waxes and other products. In 2017, it received money from the Canadian government to help fund a unit to use the technology on polystyrene. According to a press release, the end products from the PS will be chemicals used in foams, inks and coatings. GreenMantra has signed agreements to work with Sun Chemical and Ineos Styrolution to use its outputs in their ink and plastic products. Ineos Styrolution, a giant virgin PS manufacturer, is also involved in a project in Europe that recently fully depolymerized PS and used the monomers to create new plastic, according to Plastics News Europe. 
Filtration advancement released: Recycling equipment company Ettlinger developed a melt filter designed for very high throughputs. According to a company press release, the ERF 1000 high-performance melt filter has four filter drums that provide a combined 6,280 square centimeters of filtration surface, twice as much as the ERF 500, the previous top-of-the-range model. The ERF reliably handles streams with up to 18% contamination. "The filter is Ettlinger's response to the accelerating industry trend in many parts of the world toward higher throughputs, and even higher qualities – a trend triggered by the rising global demand for premium quality recycled materials for sophisticated applications," according to the company. 
 Carbon renewal technology underway: Eastman estimates its newly launched gasification technology will process up to 50 million pounds of scrap plastics in 2020, and projects are underway to "significantly expand that amount." The global chemical company calls the technology, which it employs at its Kingsport, Tenn. headquarters plant, "carbon renewal technology." The process breaks down scrap plastics into molecular building blocks such as carbon, oxygen and hydrogen, which are then used to make new chemicals. "Carbon renewal technology is a game-changer for recycling because it provides an end-of-life solution for many plastics from a variety of sources, such as single-use plastics, textiles, and carpet, that traditional mechanical recycling methods cannot process," according to a press release. 
Medical application for RPET: De Montford University Leicester in the U.K. reports on a project to recycle scrap PET bottles into prosthetic limb sockets. "Upcycling of recycled plastics and offering affordable prosthesis are two major global issues that we need to tackle," stated Karthikeyan Kandan, senior lecturer in mechanical engineering at the university. "We wanted to develop a prosthetic limb that was cost effective yet comfortable and durable for amputee patients." The bottles were ground and spun into polyester yarn, which was heated to produce a light, sturdy substance that could be easily molded into prosthetic limbs. The cost to produce a prosthetic socket was just 10 pounds sterling. 
Polymer sorting strategic: A plastics reclamation facility coming to Japan will use a number of technologies to sort plastics from automobiles, appliances, pallets, containers and other packaging into distinct polymers. Recycling International reports the PLANIC plant will have a float/sink tank where the fluid weighs 1.09 kilograms per liter. At that density, PE, PP, PS and ABS will separate from chlorinated and brominated plastics, metals and non-recyclable plastics. Unlike salt, the patented pH-neutral substance that gives the fluid its density does not dissolve, so it can be reused, and it doesn't interfere with electrostatic separation later, the publication reports. After the first tank, a float/sink tank with water will separate PE/PP from PS/ABS. Then, an electromagnetic separator will sort PS from ABS and a different proprietary technology will sort PE from PP.
Chemical recycling investments: A couple of virgin plastics giants announced investments in European chemical recycling technologies. BASF will invest in Norwegian company Quantafuel, which converts mixed plastics into pyrolysis oil. Waste 360 reports the company is building a plant in Denmark that will be able to process 16,000 tons per year. BASF will use the pyrolysis oil in its ChemCycling project to create new plastic products from the recovered chemicals. In addition, LyondellBasell is building a pilot facility in Italy will employ the MoReTec recycling technology, which uses a catalyst in a pyrolysis process. The proprietary catalyst allows for faster processing at lower temperatures, according to a press release. "We have advanced our chemical recycling capabilities over the last 15 months, and through research and testing we are studying a number of LyondellBasell proprietary catalyst options," Jim Seward, LyondellBasell senior vice president of research and  development, technology and sustainability, stated in the release. With the technology, LyondellBasell plans to target difficult-to-recycle plastics, such as multi-layer films.
To receive the latest news and analysis about plastics recycling technologies, sign up now for our free monthly Plastics Recycling Update: Technology Edition e-newsletter.
More stories about technology