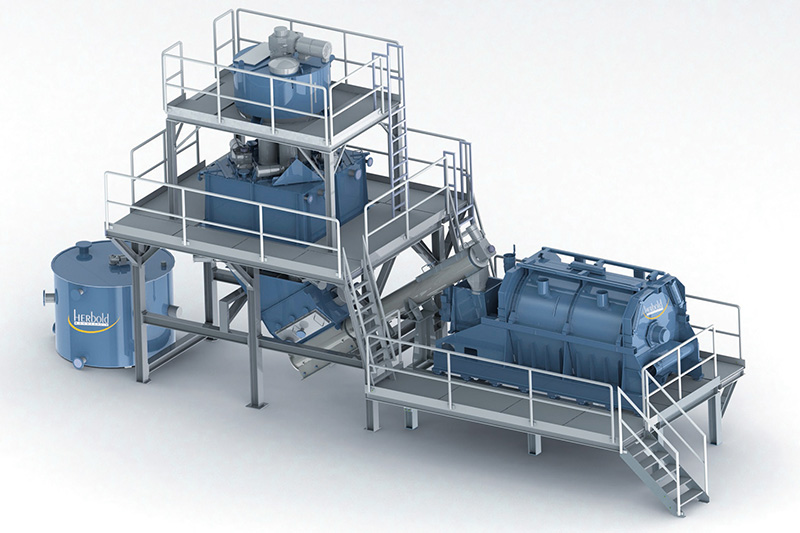 A wash line from equipment supplier Herbold Meckesheim USA cleans a variety of inbound recycled plastic streams as they enter the recycling process.
The Herbold Hot Wash System was initially designed to clean recycled PET bottles, but it can also be used to process thermoforms and a variety of other products used in the packaging industry.
"Fatty impurities from remnants of lotions, cooking oils or sunscreen are dissolved and washed away, as are residues from labels and adhesives," the company stated in a release. "The elimination of impurities at the front end of the process results in a higher volume of usable flake that is substantially cleaner."
Material that is put through the wash line typically contains significantly fewer contaminants as a result. For example, when hot-washed material goes through an extrusion melt filter, the company has charted up to 50% fewer particles being captured in the melt filter.
Flake that has been processed in the hot wash line "has reduced odor, is completely clear and does not yellow," the company wrote.
The hot wash line is generally installed in conjunction with other sorting and processing equipment as part of a continuous process, the company stated. But for applications where even greater cleanliness is required, the wash system can be installed separately from the other processing equipment, allowing for the material to remain agitating inside the washer for a longer period of time to increase purity.
Photo courtesy of Herbold Meckesheim.
To receive the latest news and analysis about plastics recycling technologies, sign up now for our free monthly Plastics Recycling Update: Technology Edition e-newsletter.
More stories about technology