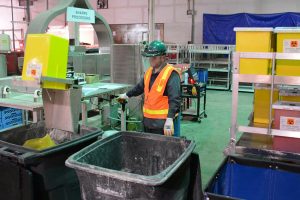 Biopharmaceutical production scrap consists of different polymers, multi-layer films and some hazardous materials. A recycling program is demonstrating that this tough-to-tackle stream doesn't have to be destined for disposal.
Global biopharmaceutical products supplier MilliporeSigma has partnered with specialty waste management company Triumvirate Environmental to recycle the commingled single-use plastic scrap into saleable lumber products.
The goal is to make a dent in the roughly 30,000 tons of biopharma single-use products landfilled or burned around the world each year. Since the program's launch in the eastern U.S. in 2015, it has recycled 3,357 tons.
Jacqueline Ignacio, global manager of customer sustainability solutions for MilliporeSigma, recently spoke with Plastics Recycling Update to explain how the companies overcame challenges diverting the unique stream from disposal and into viable end markets.
Finding a recycling partner
Owned by Germany-based Merck KGaA, MilliporeSigma provides single-use plastic items used to make biopharmaceuticals, which are large-molecule drugs created from living sources and injected into humans. Producing them involves growing cells, extracting components of those cells and purifying the product in multiple steps.
The single-use plastics include bioreactor bags, tubing, filtration systems, chemical containers, gloves, shoe covers and more. In the 2011-12 timeframe, when MilliporeSigma first began working with customers to recycle single-use plastics as part of a pilot project, the material had to be separated before it could be shipped to a reclaimer. In some cases, that meant biopharma company staff had to manually cut up items to separate the different plastics.
The approach wasn't safe or cost-effective, and it couldn't provide the volumes the recycling vendor needed.
"Obviously, if we were to roll out a program like that, the cost of that would have outweighed the benefits and we would not have been able to maintain it," Ignacio said.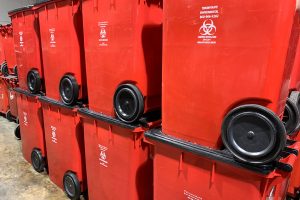 The company found a solution in partnering with Triumvirate Environmental, a Somerville, Mass.-based company that provides collection and disposal of dangerous chemicals and bio-hazardous waste. Triumvirate was already handling hazardous waste for MilliporeSigma when Ignacio issued a request for proposals on diverting single-use plastics.
The companies collaborated to develop the Biopharma Recycling Program, which launched in 2015. Through the program, commingled plastics – almost all polyolefins – are recycled into various grades of plastic lumber.
Through the partnership, MilliporeSigma's customers – drug makers – contract with Triumvirate to have their scrap materials collected. MilliporeSigma pays a yearly fee to Triumvirate to help offset its processing costs, allowing it to keep costs down for MilliporeSigma's customers, Ignacio said.
"We do feel like we need to have skin in the game," she said.
Triumvirate recycles the plastics at its 87,000-square-foot Jeannette, Pa. facility, about 25 miles southeast of downtown Pittsburgh. Because of its footprint and service area, the company is only collecting plastics from biopharmaceutical manufacturers east of the Mississippi River, although its working to provide service to the West Coast in the future, Ignacio said.
MilliporeSigma estimates 30 East Coast biopharmaceutical drug sites generate around 4,500 tons per year of single-use plastics.
Processing the mix
The single-use plastics consist of PE, HDPE, LDPE, and PP, although the bioreactor bags have multi-material films with a layer of nylon 6. Some of the stream is considered hazardous and some is not, Ignacio explained.
The material that's not considered hazardous heads to the Jeannette facility's Plant No. 2, where it's first shredded, Ignacio explained. Then, ferrous and nonferrous metals are removed with a magnet and eddy current separator. After that, a float-sink tank is sometimes used, depending on the composition of the feedstock and the desired grade of plastic lumber. The tank helps increase the percentage of PE and PP in the mix; it also helps remove residual diatomaceous earth, a siliceous sedimentary rock crumbled into a powder, which can clog up the recycling system.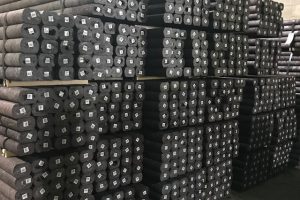 The flakes then move to a dryer regardless of whether they went into the float-sink tank. That because they can have residual moisture from the biopharmaceutical filtering process. Then, the plastic is shredded, sent into an extruder and shredded again. Finally, the material is extrusion-molded into lumber, parking stops, speed bumps and other products. The company uses single-screw extruders. Triumvirate incorporates colorants but declined to provide details on any other additives it uses.
The bio-hazardous feedstock goes to Plant No. 1, where a machine provided by New Jersey company Positive Impact Waste Solutions (PIWS) sterilizes it with a proprietary dry chemical mixture and grinds it. The sterilized flakes are then mixed into material in Plant No. 2.
Made without any virgin plastic, Triumvirate's industrial-grade lumber product is sold under the BestPLUS brand. Available in multiple sizes and colors, the lumber is used in landscaping, concrete forming and shoring, pallets, picnic tables and other applications. Triumvirate also uses the plastic to make a shipping pallet, which biopharmaceutical manufacturers use to reduce the risk of contamination brought into their facilities by wooden pallets, Ignacio said.
Desire to expand program
MilliporeSigma, which serves 66 countries, would like to expand the program to other locations. Challenges remain, however. Triumvirate's technology is difficult to scale and replicate in all locations, Ignacio noted, and lumber buyers will be needed wherever processing systems are installed.
"Scaling this in the immediate future is not something we're going to be able to do right away, so I've been looking for alternative technologies," she said.
Among those is depolymerization, which break plastic down to its monomers. The issue there is the feedstock still needs to be sorted and prepared, Ignacio said.
Her company is also looking for outlets for select items, including reactor bags and multi-layer films, which are considered the most difficult to recycle but still make up a good percentage of the material stream.
In the meantime, Triumvirate is working to establish a West Coast footprint. A life-cycle assessment showed the transportation costs were high – and the greenhouse gas benefits diminishing – when shipping single-use plastic scrap from West Coast biopharma makers to Pennsylvania for processing.
"Hopefully, in the next year we'll have a way to at least collect and condense the shipments from the West Coast to the east so that it makes more sense from a greenhouse gas footprint – carbon footprint – as well as the transportation costs," Ignacio said.
Photos courtesy of MilliporeSigma.
To receive the latest news and analysis about plastics recycling technologies, sign up now for our free monthly Plastics Recycling Update: Technology Edition e-newsletter.
More stories about challenging materials