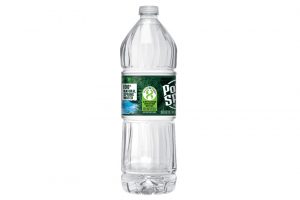 Nestlé Waters North America is betting that it can connect with consumers over the long term by using high levels of recovered material.
The bottled water giant announced on June 3 that all bottles in its Poland Spring still-water line will be constructed from 100% recycled PET by 2022. The company also noted all Poland Spring 1-liter bottles will be made of 100% RPET starting this month.
Brands have long pushed to use recycled plastic to meet internal sustainability goals, control costs or insulate themselves from volatility around virgin materials. But an executive with Nestlé Waters North America said the Poland Spring play is in many ways rooted in a foundation of product marketing: Give buyers what they want.
"In study after study, it's been clear consumers want to be associated with brands that are doing the right things, that help to protect the environment," David Tulauskas, chief sustainability officer (CSO) at Nestlé Waters North America, said in an interview. "We want to show consumers that they played a role in making this bottle and that just one simple act of recycling this bottle helps keep this food-grade, high-quality PET in motion and come back to them in a future bottle."
The announcement comes a month after Nestlé Waters rolled out a line called Poland Spring Origin, which is bottled in 900-milliliter containers that also leverage 100% RPET. The Poland Spring brand is distributed mainly in the Northeast U.S.
According to Tulauskas, more recycling-oriented moves will be coming from the brand owner.
"Nestlé Waters wants to be the disruptor of the bottled water business," he said, "and we've got a really robust packaging roadmap that lays out and gets us to solutions where we can envision a waste-free future, where we can achieve circularity."
New CSO has automotive background
Tulauskas is the new face of Nestlé Waters sustainability, having assumed the CSO position in March of this year.
He came to the company after a long tenure at General Motors, where he had been director of sustainability since 2011.
While the automotive and bottled water sectors are in many ways worlds apart, Tulauskas said there's crossover in the fact that both GM and Nestlé Waters have huge hopes when it comes to their larger societal impacts: The water company envisions complete circularity for packaging, and GM envisions a world with zero car crashes and zero emissions, Tulauskas noted.
The complexity and goals in materials usage serve as another intersection between the two industries.
A PET bottle is "a highly engineered package," Tulauskas said. "It's similar to an automobile being a highly engineered product to keep consumers safe and is also high quality and durable. And it's also easy and convenient, that utility factor."
The Poland Spring commitment is part of Nestlé Waters' larger goal to increase recycled content across its entire product line to 25 percent by 2021, up from the current portfolio-wide number of 7 percent.
Other brand owners are laying out similar goals for increased use of recycled plastic, spurred in part by initiatives such as the Ellen MacArthur Foundation's New Plastics Economy.
While the recycling industry has cheered such promises, plastics reclaimers and other facility operators have also wondered where the supply of quality material will come from to satisfy the end market appetite. Despite ongoing efforts to improve community programs, the U.S. municipal recycling rate has been stuck around 34 percent for a number of years.
Tulauskas said investment in materials recovery infrastructure will be a key element. He noted Nestlé Waters North America has put $6 million behind Closed Loop Partners, a group that has made many targeted recycling investments of late. In addition, Nestle Waters has a partnership with growing PET processor CarbonLite.
Tulauskas also said the brand commitments themselves could act as a catalyst for more money to flow into the system.
"As those strong demand signals continue to enter the market, that's going to give and more suppliers the confidence to invest in the technology that exists today," he said. "It will give confidence to cities and communities to continue recycling efforts."
And if consumers connect to brands' use of recycled content like Nestlé believes they will, that could have impacts on the wider supply side as well.
"When we can help educate and inspire the consumer to think of bottles as a valuable resource instead of a waste, that's a huge victory," said Tulauskas.
A version of this story appeared in Resource Recycling on June 4.
More stories about brand owners