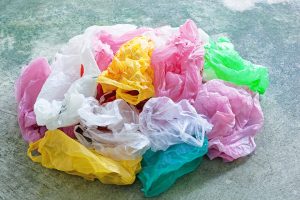 Researchers have found a way to convert post-consumer LDPE and HDPE into energy-storing carbon that can be used in batteries.
According to the American Chemical Society (ACS), the scientists found a way to recycle plastic bags into carbon chips that can be used as anodes in lithium-ion batteries. The scientists are from Purdue University; the Technological University of Querétaro, Mexico; and the Engineering and Industrial Development Center in Querétaro.
In their process, they immersed PE bags in sulfuric acid, sealed them inside a reactor and heated the sample to just below PE's melting point, according to Purdue University. This caused sulfonic acid groups to be added, which allowed the plastic to be heated to much higher temperatures without vaporizing hazardous gases. Then, the scientists removed the sulfonated PE from the reactor and heated it in a furnace at 1,600 degrees Fahrenheit to produce pure carbon. They ground the carbon into black powder and used it to make anodes for batteries.
"The resulting batteries performed comparably to commercial batteries," according to ACS.
The novel process is described as more efficient than prior approaches to converting PE into pure carbon, according to ACS.
"On the basis of the literature survey, this is the first report which demonstrates that a solvothermal sulfonation process followed by thermal treatment successfully converts waste LDPE and HDPE plastic bags to functional energy-storing carbons," according to their paper, which was published in December in ACS Omega.
Photo credit: By Bowonpat Sakaew/Shutterstock

To receive the latest news and analysis about plastics recycling technologies, sign up now for our free monthly Plastics Recycling Update: Technology Edition e-newsletter.
More stories about technology