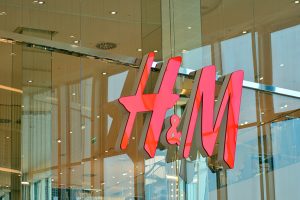 Global apparel company H&M used the equivalent of 325 million PET bottles in its recycled polyester last year, substantially up from the year before.
According to the company's 2018 sustainability report, H&M is the sixth-largest consumer of recycled polyester in the world. Last year's recycled PET (RPET) consumption was up from its use of the equivalent of 100 million PET bottles in 2017.
The report notes that several of the Sweden-headquartered company's brands replaced conventional polyester and nylon with recycled alternatives last year. The Arket brand and H&M worked with a 100 percent recycled nylon fiber branded Econyl, which is produced by Italian company Aquafil. Plastics Recycling Update reported that Aquafil is further investing in its U.S. capacity to recover nylon from post-consumer carpet.
Additionally last year, H&M's Weekday swimwear brand was made entirely from recycled nylon and polyester.
"We want to further accelerate the use of recycled fibres in our products. However, to do this and to be able to recycle all fibre types and blends at scale we need more technological advancement in recycling technologies," according to H&M.
The company noted several partnerships and investments on the technology front, many of them involving using new technologies to recover polyester from used textiles.
For example, the H&M Foundation helped back a hydrothermal textile recycling plant in Hong Kong, where heat, water and less than 5 percent of biodegradable chemicals are used to separate the plastic from cotton. The foundation expects to invest 5.8 million euros (about $6.5 million) into the venture.
The company has also invested in technology startups Worn Again Technologies a U.K. company, and Moral Fiber, a U.S. company. And H&M is involved in the Depolymerization by Microwave Technology (DEMETO) project.
H&M also collected used textiles at its stores for reuse and recycling. Last year, it took in 20,649 metric tons, up 16 percent from 2017.
Photo credit: Grand Warszawski/Shutterstock
More stories about brand owners