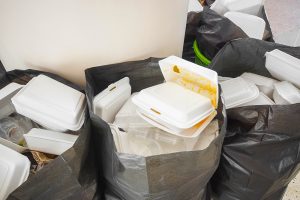 Chemical producers in Canada view a multi-pronged approach as key to advancing plastics diversion. Mechanical recycling is just one part of that strategy.
The Chemistry Industry Association of Canada, an industry group that counts among its members major chemical producers, oil companies and other plastics stakeholders, recently laid out its vision for chemical industry involvement in pushing toward a circular economy.
"While plastics enable our modern way of life, they belong in the economy and not the environment," the group wrote in the report, titled "The Role of Chemistry in a Circular Economy for Plastics."
The study is the latest example of the virgin plastics producers deepening their interest in recycling-related work. Last month, major corporations committed at least $1 billion to "end plastic waste," and multiple resin producers have recently purchased recycling operations.
The Canadian study found substantial public support for increasing plastics recyclability, which was identified as the "best way to reduce plastic waste" by 78 percent of Canadians.
"In order to move to zero waste, the chemistry industry sees opportunities to triple mechanical recycling rates from 15 percent to as much as 40 percent, noting that this shift will take monumental changes to product design, consumer behaviour and waste management activities in Canada," according to the study.
The companies are supporting increased recyclability but are also throwing their weight behind alternative and emerging processes. The research also found the chemical industry anticipates a "limited increase" for waste-to-energy processes, "due to a lack of public desire to increase this share." Waste-to-energy currently takes about 15 percent of plastic waste in Canada.
But on the plastics-to-fuel front, the report found positive indications for the future.
"Where plastics can't be mechanically recycled, industry is exploring capabilities to process these materials back into chemicals used as feedstocks to manufacture new items," the report explained. "Where that isn't possible, plastics can be converted into fuels to replace coal and coke in the cement industry, used in industrial boilers and furnaces, or they can be converted into liquid fuels to lower the greenhouse gas footprint of diesel and heavy fuels."
Member companies are supporting the following initiatives:
The Hefty EnergyBag program, in which hard-to-recycle plastics are collected curbside in a special bag, removed from the sort line at the materials recovery facility (MRF) and sent for energy recovery.
Recyclable food pouches, developed by member companies Dow and NOVA Chemicals, which are compatible with PE film recycling streams.
Biodegradable plastics, used in organic waste bags, agricultural films, compostable packaging and more.
Polystyrene conversion technologies, including a partnership between Pyrowave, INEOS Styrolution and ReVital Polymers. This technology aides in recovering single-use polystyrene packaging, including in foodservice applications.
A number of ocean plastic prevention efforts, including the Project STOP initiative to reduce marine plastic pollution in countries with high rates of plastic leakage into waterways; Circulate Capital, which is investing as a business incubator in Southeast Asian countries; the Ocean Conservancy's beach cleanup efforts; and others.
GreenMantra Technologies, a plastics reclaimer that makes industrial waxes from post-consumer PE and PP and is adapting its technology to PS.
Chemical recycling technology used by BASF, which transforms mixed plastics into an oil used as a feedstock in new chemical products.
The association is also pushing for a number of government policy actions, including promoting "well-designed, industry-led extended producer responsibility systems to inform consumer behaviour and help establish markets."
Other policy priorities for the group include standardization of material collection and sorting systems, government support for energy recovery and chemical recycling technologies, greater emphasis on life-cycle thinking when considering plastics-related policies, and more.
Photo credit: wk1003mike/Shutterstock

More stories about industry groups