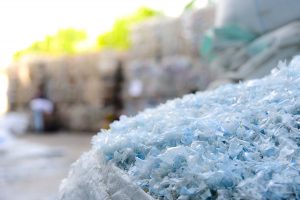 Intuition says making products from recycled plastic is better for the environment than using virgin plastic. A recent study puts hard numbers to that understanding.
The Association of Plastic Recyclers (APR) on Jan. 28 released a report titled "Life Cycle Impacts for Postconsumer Recycled Resins: PET, HDPE and PP." The analysis was performed by Franklin Associates, a division of Eastern Research Group.
The study found that using recycled plastic reduces greenhouse gas emissions by 67 percent for PET, 71 percent for HDPE and 71 percent for PP. The use of recycled plastic reduces total energy consumption by 79 percent for PET, 88 percent for HDPE and 88 percent for PP.
The analysis also includes estimates for other measures of environmental benefit, including water consumption, solid waste generation, acidification, eutrophication (excess nutrients in water that can lead to oxygen depletion) and smog. The information allows brand owners to better calculate their environmental impacts and provides reclaimers with additional data to support their marketing efforts.
"This study shows a win-win for companies who incorporate recycled plastic resin into their new products," Steve Alexander, president and CEO of APR, stated in a press release. "They can improve the environmental sustainability of their products and processes and reduce their energy costs. It demonstrates the importance and effectiveness of the full recycling chain for plastic goods – a chain that starts with companies manufacturing recyclable products, and ends with consumers buying products made from recycled materials."
In a webinar last August, Franklin Associates and APR teased some early conclusions of the then-ongoing work. At the time, researchers said they still needed to gather additional information from plastics reclaimers to finalize the numbers. The final numbers show even greater greenhouse gas reduction benefits than those suggested last year. Specifically, last year, Franklin Associates anticipated finding a 50 percent decrease for PET and a 65 to 70 percent reduction for HDPE and PP.
"This report clearly demonstrates the benefits of a renewed commitment to plastic recycling," Jaime Camara, CEO of Mexico PET reclaimer PetStar and chairman of the APR Board of Directors, stated in the release. "It is critical that North America continues to invest in our recycling infrastructure so that we can expand the material that is collected, sorted and processed for second use. Recycling and using recycled materials are good for manufacturers, consumers and the planet."
Photo credit: By RecycleMan/Shutterstock
More stories about industry groups