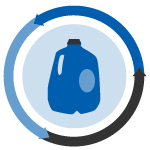 Recycled PE and PP waxes are found to boost asphalt performance, and nylon 6,6 recovered from airbag scrap is used in new pressure washers.
Recycled plastic asphalt additives: GreenMantra Technologies says its recycled plastic additives can be used to enhance the strength and durability of asphalt. The Brantford, Ontario company uses a unique technology to process scrap plastics into waxes and polymer additives. According to a press release, GreenMantra's Ceranovus A Series PE and PP additives, when incorporated into asphalt at 2 percent by weight, increase penetration hardness and provide improved resistance to rutting and deformation.
Scaling up a process to break down PET: Carbios has signed a letter of intent to install a demonstration plant for its enzymatic PET depolymerization technology. The French company signed the letter with vinyl producer KEM ONE. Construction is expected to start in mid-2019. Carbios' "bio-recycling" technology can break down challenging polyester streams, including opaque containers and textiles, into their components, which can be used to make new plastic.
Glass-lined PET bottle: A packaging producer has created a glass-lined PET bottle it claims is easier to recycle than composite materials, according to Beverage Daily. KHS has developed what it calls its FreshSafePET bottle, which uses an ultra-thin layer of glass on the inside of the PET bottle to provide a barrier layer to protect the drink. According to the article, the glass washes off in the PET recycling process.  
ChemCycle project: Chemicals giant BASF reports it has created a number of products from chemically recycled plastics. BASF's ChemCycle project involves converting scrap plastics into syngas or oils, which are fed into the company's plastic production processes. The resulting plastics have been used in mozzarella cheese packaging, refrigerator components and insulation panels. As one technological hurdle, BASF found that "the existing technologies to transform plastic waste into recycled raw materials such as pyrolysis oil or syngas must be further developed and adapted so that consistently high quality is assured," according to a press release.
Deinking demonstration: Cadel Deinking, which offers a process for removing inks from recovered plastics to boost their value, uploaded photos and a video of its recent open house. At the Dec. 4-6 event in Alicante, Spain, Cadel Deinking demonstrated its system that is capable of processing nearly 1,000 pounds per hour. Plastics Recycling Update profiled the company and its technology in early 2017.
Advanced nylon recovery: An original equipment manufacturer has started using nylon 6,6 recovered from airbag scrap in its products. Kärcher is incorporating into its pressure washers the Technyl 4earth brand polyamide reinforced with 30 percent glass fibers. The plastic is created by French company Solvay, which separates the nylon from silicone in the airbag scrap by using a chemical bath followed by density separation. Plastics Recycling Update wrote about the technology in fall 2016.
Pyrolysis development: A U.K. startup is seeking to raise another 1.3 million British pounds (more than $1.6 million U.S.) via crowdfunding to advance commercialization of its pyrolysis technology, according to Waste Management World. Recycling Technologies is developing the business for RT7000 machines, which convert scrap plastics into an oil called Plaxx that is used to make new plastic. In February, the company raised the equivalent of nearly $4.7 million in a crowdfunding campaign.
To receive the latest news and analysis about plastics recycling technologies, sign up now for our free monthly Plastics Recycling Update: Technology Edition e-newsletter.