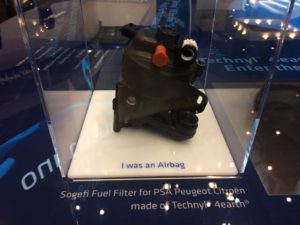 A French chemical company has announced industrial-scale production of a recycled polyamide 6.6 resin made from airbag fabrics.
Lyon, France-headquartered chemical company Solvay calls the effort its "Move 4earth" project. The advanced recycling process it uses separates the silicone and PA 6.6 in airbags and recovers the plastic. The resulting recycled resin is being sold under the name "Technyl 4earth."
On Nov. 17, Solvay celebrated the grand opening of the production facility in Gorzów, Poland. The project received funding from the European Commission. Plastics Recycling Update: Technology Edition wrote about the project in fall 2015.
In the Move 4earth recycling process, airbags or other technical textiles are first cut up before they undergo a second, finer cutting stage to reduce their size even more. Next, the shredded textiles are immersed in chemicals that attack the bonds between silicone, which can make up 15 percent of an airbag, and the PA 6.6. The PA 6.6 is then removed in a process that separates by density. Finally, the plastic is washed, dried, melted and cut into pellets for compounding.
"Technyl 4earth significantly reduces the environmental impact of polyamide parts to a level that has never been reached before," Richard Bourdon, Move 4earth project director, stated in a press release. "Solvay's initial cradle-to-gate assessment shows outstanding results: carbon footprint reduced by a quarter; consumption of nonrenewable resources divided by two; and water use decreased by over two-thirds compared to traditional compounds."
The company says the recycled resin has properties on par with Solvay's virgin-content equivalent.
Solvay says it is already working with major players in the automotive and consumer goods markets to create products using the recycled resin. It has identified a number of different parts and products that could be molded with the recycled plastic.