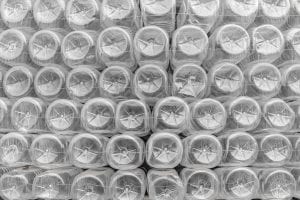 Articles about the U.S. PET recycling rate and a reclaimer's expansion took top positions on last month's readership list.
The list below shows our top stories published in November in terms of unique page views.
1 | PET bottle recycling rate rises
The U.S. PET bottle recycling rate inched upward to 29.2 percent last year.
2 | Nestlé Waters deal enables third CarbonLite plant
Nestlé Waters North America has signed a pre-buy agreement with CarbonLite, deepening its already entwined relationship with the PET reclaimer.
3 | Developments in flexible packaging recycling
Brand owners and packaging providers have rolled out innovative replacements for difficult-to-recycle multi-layer plastic packaging.
4 | Investor explains decision to back plastics-to-fuel firm
The leader of a company that is putting millions behind RES Polyflow says plastics conversion technologies today are comparable to renewable energy solutions when they were still in their infancy.
5 | Third quarter brings plastic exports strife
Southeast Asian countries continue to place restrictions on scrap plastic imports, affecting movement from U.S. ports.
Photo credit: WeStudio/Shutterstock