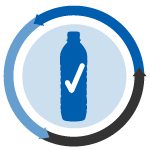 A PET recycling process using infrared radiation to help decontaminate flakes was one of several recent technologies that received a green light from a European review body.
Three recent applications that involve the recycling of post-consumer PET into food packaging were approved by the Panel on Food Contact Materials, Enzymes, Flavourings and Processing Aids (CEF).
CEF is part of the European Food Safety Authority (EFSA). In the European Union, recycled plastics and additives can only be used in food and beverage packaging if they're first reviewed by EFSA for safety. Recycling companies submit applications to individual countries, which apply to the EFSA on their behalf. The EFSA fills a role similar to the Food and Drug Administration in the U.S.
The following is a roundup of recent opinions from CEF. Plastics Recycling Update published its last roundup in June 2018.
Gneuss technology
On June 7, the CEF signed off on using a recycling process called Gneuss 1 to recycle post-consumer PET into pellets or sheets. Through the process, the washed and dried PET flakes are continuously fed into a Gneuss MRS extruder. There, the system degasses the melt under high vacuum, decontaminating it.
The panel said it saw no issues with converting the PET into 100 percent RPET containers for long-term storage of food or drink at room temperature.
The application was submitted by Germany's Federal Office of Consumer Protection and Food Safety on behalf of equipment provider Gneuss Kunststofftechnik of Germany.
Also on June 7, the CEF approved a related application from Gneuss evaluating what was called the "Gneuss 2" technology. This process is similar and could be used for packaging made with 90 percent PCR, not 100 percent.
Linpac process
On June 6, the CEF gave the green light to Linpac's technology processing post-consumer PET into 100 percent RPET sheet for thermoforming into food trays. The food could be stored for up to 30 days at about 43 degrees Fahrenheit.
Under the Linpac process, washed and dried flakes are treated with an infrared rotary dryer in three zones, each with increasing temperature. They're treated with radiation under an air flow. Then, the flakes are sent to another dryer where they're treated with hot air under an air flow. Lastly, they're extruded into either mono sheet or thin-film-laminated sheet with degassing under vacuum.
As was the case with the Gneuss applications, this one was submitted by the German Federal Office of Consumer Protection and Food Safety. It was submitted on behalf of Linpac Packaging of Germany.
To receive the latest news and analysis about plastics recycling technologies, sign up now for our free monthly Plastics Recycling Update: Technology Edition e-newsletter.
More stories about technology