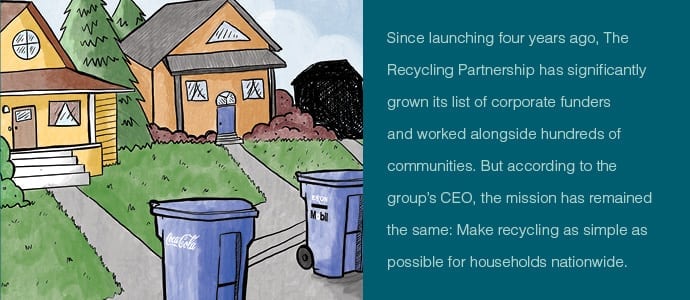 This article originally appeared in the Spring 2018 issue of Plastics Recycling Update. Subscribe today for access to all print content.
The Recycling Partnership landed on the materials-recovery scene in 2014. The organization has since then continuously added a range of brand owners, recycling stakeholders and others as funders. The number of backers now sits at 39.
It's used that funding to jump into projects on the ground with municipalities both large and small, and the group says its work has led to carts and other tangible system components with a value of $29 million across more than 500 communities. In many cases, the private funding provided by the group has helped "unlock" additional public-sector dollars.
But now that The Recycling Partnership is well-established, new questions emerge. Last month, The Recycling Partnership announced a new batch of funders, including behemoths ExxonMobil and Starbucks. In addition, China's National Sword has swooped across the market landscape over the last year.
How can one industry entity serve the needs of many interests, especially when some of its backers are fierce competitors? And does a focus on boosting the volumes of curbside collected material still make sense when some recovered tons are struggling to move?
To get some perspective on those realities and others, Plastics Recycling Update talked with Keefe Harrison, CEO of The Recycling Partnership. She calls the group a recycling "action agent," capable of providing expertise in technical assistance and data analysis alongside funding. She noted it's this type of approach that helps the group navigate complicated industry terrain.
"We really have refined our model," Harrison said, "but not taken our eye of what we set out to do, which is first, provide access to make sure people can recycle at home and, second, work with cities like Atlanta, Denver and Chicago to improve existing infrastructure. We've got really good data behind us on what's most impactful and how to spread it as far as possible."
What follows is an edited transcript of the conversation with Harrison.
Plastics Recycling Update: Let's start by discussing some of your group's newest funders. Starbucks seems like an interesting brand to back your group because its most recognizable items – disposable coffee cups – are not easily recycled curbside. What caused Starbucks to come on board?
Keefe Harrison: Starbucks is working to build a positive story around recyclability of cups. By joining us, they're adding another tool to their box on how to make that happen. Recyclability has to happen first at the end market. Can a mill successfully re-pulp that cup without the poly lining becoming a detriment to the rest of the material? The industry is working really hard on that part.
Now the work really becomes putting more focus on helping materials recovery facilities (MRFs) understand whether cups can be accepted and sold in their mixes.
And then the biggest challenge is when you get to the bracket between a community and a MRF. How do you add this type of material? And then what do you call it? How do you explain a hot cup as a simple thing that people can understand and doesn't reflect a cold cup or a mug or a plastic cup? That's the next step there.
Another of your most recent funders in ExxonMobil, which is known mainly as a fuel giant but is also a major plastics producer. The company has committed $1.5 million to The Recycling Partnership. Why are they supporting you at such a significant level?
ExxonMobil recognizes that we are delivering measurable results right now and that the company can make a much bigger impact on improving recycling solutions across the U.S. and people's everyday lives as part of the Partnership than they can working alone. We are an action agent. We have the human capital, the connections and the data to transform recycling for good in this country and reach our goal of providing every family in America access to recycling. ExxonMobil's significant $1.5 million investment will help us impact more families faster – creating healthier communities, a more circular economy and a healthier planet.
Nevertheless, ExxonMobil is an emblem of the global fossil fuels industry, a fact that might put the company at odds with some recycling leaders who are committed to trying to slow the effects of climate change. Is there any fear of backlash on this move from some segments of the industry?
Our mission at The Recycling Partnership is to create a thriving recycling system through collaboration. When we take on any funding partner, we ask three questions: Do you believe in our mission? Are you willing to fund it? And will you work well with others? Our funding partners work as a team to help fund and advance recycling systems across the country. Exxon fits the bill in that they want to improve recycling across the country, they are willing to invest financially, and they want to work with our other funding partners to deliver measurable and sustainable change to people's' lives right now by transforming recycling for good in the U.S.
How do you balance the needs of your growing list of corporate funders?
We haven't had members try to push us off course or do individual bidding. We really protect against that by being fiercely mission-focused but also by having the metrics. No one has made this much change in the space in this amount of time, so we can really make the case that we have a strong ROI on making positive change for recycling and delivering metrics back. That's different than even two years ago when we were still setting the course. Now we have a year-over-year impact record.
I often get asked by other nonprofit groups, "How do you manage all these corporate limbs?" The answer is, if you remain mission-focused and have strong metrics, there's nothing to push against.
Among your funders are some pretty major competitors, such as Coca-Cola and PepsiCo. Does that ever cause friction?
Partnership is part of our name on purpose. We believe all those different brands and companies – their products end up in the bin together, and we have to solve this together. Sometimes it's brands that compete. But it's also packaging formats and now retail too. How do you create a space that welcomes them?
I was recently at a conference, and the North American CEO for Heineken was speaking. He made the point that we can't compete when it comes to the planet. We, being the companies, must work together and solve this fast. I definitely think that's a shift – a willingness among companies to link arms when it comes to solution building, even while at the same time they are fiercely competing for sales.
Heineken is an interesting example to bring into this. That company is a funder of yours, but one of its primary packaging formats, glass, causes recycling problems for other backers of the group. Do you think glass should be part of curbside single-stream?
Glass needs attention. We always begin our work by looking at what the opportunity is for the community and the MRF. We very often have to help the community understand the MRF's opportunities and work backward from there. Sometimes that's growing acceptance for things. But sometimes it's understanding what the realities are. For instance, when we gave a grant to Santa Fe, N.M. to buy curbside carts, their MRF was no longer accepting glass. Glass was coming out of curbside collection at that same time. We had to work with City Council to help them understand this was a big national shift. We want that glass to be recycled, but we understand the realities of marketplace pull.
Also, I think there are some opportunities for brands that want to package in glass to have a bolder voice right now and help build solutions and develop that use of recycled cullet that helps to create demand. The reason we worry about it is that glass is one of the most iconic recycled materials. If you tell resident they can't recycle glass, will they believe that everything else is OK?
Another one of your newer funders is Amazon. Do you get the impression that company is feeling it needs to do more to support recycling as e-commerce grows and smaller boxes become a more prevalent part of the stream?
One of the main reasons they joined us is to bridge the gap between the perceived recycling access for cardboard and what the reality is. It's tough medicine, but as we said in our "2016 State of Curbside Report," only half of Americans can recycle at home as easily as they can throw something away. Our goal is definitely to twin the bin, to make sure it's as easy as possible to recycle for every household. Not just curbside, but drop-off too.
Amazon expects that every American should be able to recycle their cardboard box. But not every American has access to recycle it in their town or city. We're first giving them the opportunity to recycle it by making sure they have access. Then we can really drive their behavior. Behavior change is much easier when it's really easy for you to do the desired thing. It's a no-brainer but that's one of the things we kind of trick ourselves about in this industry. We move too quickly to blaming the consumer and assuming they don't want to do the right thing.
Let's talk about China's import policies. The amount of recovered material moving to that country has been drastically cut back by National Sword, and it's been difficult for other markets to absorb those tonnages. How is The Recycling Partnership reacting?
This really puts the light on contamination and how to reduce contamination. We've got really excellent protocols that came out of The Recycling Partnership's work in Chicago and Atlanta and Massachusetts on how to do just that. Testing protocols show us what the impacts are that communities can expect when they adopt anti-contamination protocol like we have set up.
This involves education but not just telling people what to do. It's also tagging carts and using "oops" tags to drive that home. We're getting calls from cities we've not formally worked with but that now need help on contamination and don't know what to do. It's exciting to have everything that we've done with our major partners all ready to go for free for anyone who adopts them. It's all on our website.
It sounds like you see National Sword as an opportunity for industry improvement.
People are really focusing on quality of material. They just don't quite know what to do. We would come out loud and clear and say that this isn't just a matter of telling your citizens what to do. It's really engaging in your specific program to do it well.
We at the Partnership have way more demand than we can fill right now, but that's a good thing. It allows us to drive more funding partners to join us, to trust us, to help us build more solutions. More than ever, I hear from our corporate partners that they want to be part of the solution, and they are willing and understand they have to do it together. That's a dose of good news we can all share.
Dan Leif is the managing editor of Plastics Recycling Update and can be contacted at [email protected].