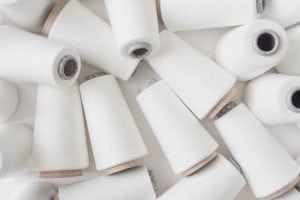 Recycled plastic yarn manufacturer Unifi saw an increase in sales last year, including stronger demand for its recycled flake and chip. But higher PET bale prices cut into profits.
The Greensboro, N.C.-headquartered company's flagship brand is Repreve, a recycled polyester fiber. Unifi is a large U.S. consumer of recovered PET bottles. Its goal is to recycle the equivalent of of 20 billion PET bottles by 2020. It recently surpassed the 12 billion bottles mark.
A publicly traded company, Unifi recently reported on its fiscal year 2018 financial results, providing insight into its boosted production capabilities and the recycled PET markets.
Unifi reported sales of nearly $678.9 million during the 2018 fiscal year, up nearly 5 percent year over year. But its net income was $31.7 million, down nearly 4 percent from 2017.
Continued capital investments
Over the past three years, Unifi has made substantial capital investments to increase its ability to produce Repreve, described as the company's fastest-growing brand, and other premium value added products.
In 2016, it opened a $28 million PET bottle processing facility in Reidsville, N.C. That plant generates up to 75 million pounds of recycled plastic per year for Unifi's production of fiber and for sale to outside buyers.
In November 2016, the Food and Drug Administration issued a letter of no objection allowing Unifi to produce post-consumer RPET flake for sale into the food packaging sector. That opened another outside sales market for Unifi.
The company's Yadkinville, N.C. plant manufacturer yarn from recycled plastics. That facility has seen millions of dollars in capacity expansions in recent years. According to the 2018 annual report, Unifi made $25 million in total capital investments last year. That money went to completing a fourth production line at the Yadkinville plant, among other projects.
Unifi is planning another $25 million in capital expenditures in the 2019 fiscal year, including maintenance and further improving production capabilities and technology in the Americas.
Sales up but profits down
Multiple factors accounted for decreased profits both companywide and specifically in the polyester segment. Unifi experienced an increase in the price of recovered PET bales last year. While it passes higher feedstock costs onto customers in the form of price increases, there's a time lag.
In a press release, company leaders noted an improvement in late in the year, however.
"While higher raw material costs significantly pressured our margins and profitability in fiscal 2018, we began to see a positive impact in the fourth quarter from recent pricing adjustments," Kevin Hall, chairman and CEO, stated in the release.
Unifi reported higher-than-expected costs at the bottle recycling facility last year.
Additionally, around the same time Unifi was increasing its flake production, other companies were increasing their PET bottle recycling capacity, leading to unpredictable market dynamics, according to the annual report.
Lastly, the polyester segment's profit margin was squeezed by the unfavorable change in the sales mix. Sales of recycled flake and chip increased. International fiber sales were also up, but domestic demand for polyester yarn was soft. That change cut into the margin because flake and chip are lower-margin products. Unifi enjoys a greater margin with higher-priced textured, dyed and beamed polyester yarns.
Photo credit: EKKAPHAN CHIMPALEE/Shutterstock
More stories about brand owners