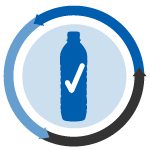 A major manufacturer of recycled-content fabrics has received the go-ahead from the U.S. Food and Drug Administration to create rPET for food applications.
Unifi, Inc., which owns the Repreve brand of recycled polyester fabrics, received an FDA letter of no objection (LNO) allowing the use of its technology to recycle post-consumer PET into food packaging used at room temperature or below.
That was one of the LNOs issued by the FDA during the second half of 2016. In both cases, the FDA determined the recycling processes would result in contaminant concentrations of 0.5 parts per billion or less in the food, below its "threshold of regulatory concern."
In this twice-yearly roundup, Plastics Recycling Update: Technology Edition takes a closer look at the two recent LNOs (a previous roundup of LNOs is available online).
Unifi request
The FDA issued a Nov. 22 LNO to Keller & Heckman on behalf of Unifi Manufacturing, a major producer of textile fibers. The LNO enables the use of Unifi's secondary recycling process to produce post-consumer rPET for food packaging.
Specifically, the letter allows the use of 100 percent recycled content in clamshells, trays, baskets to hold fresh fruits, vegetables and eggs. The packages can be used in frozen, refrigerated or room temperature storage, but they can't be used in any hot-filled or pasteurized applications. Also, they can't be used to hold frozen meals that are heated in the packaging before they're consumed.
The application indicated the feedstock would consist of post-industrial or post-consumer PET containers, both for food and other non-food items. The feedstock will all derive from food-grade PET, and it would exclude industrial chemical containers.
Unifi currently produces rPET at a $28 million facility in Reidsville, N.C. The facility has a capacity of 75 million pounds per year
"We are pleased to expand our end uses for Repreve bottle flake to include food-grade products," Eddie Ingle, vice president of supply chain and Repreve polymer sales for Unifi, stated in a press release. "The Repreve Bottle Processing Center uses custom-designed, cutting-edge technology to produce recycled bottle flake for high-quality, safe, environmentally responsible food packaging."
Placon application
The FDA issued a July 29 LNO to Keller & Heckman, which applied on behalf of packaging producer Placon Corp. The LNO covered the recycling of post-consumer PET into rollstock and thermoformed containers.
The letter says the company's recycling process would allow the rPET to go into containers used at a range of temperatures, from frozen storage up to hot fill or pasteurization above 150 degrees Fahrenheit.
An FDA database contains information on all past LNOs.