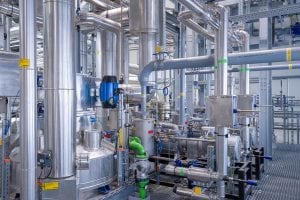 A global flexible packaging producer has partnered with a German recycling technology company to process multi-layer film scrap via a solvent-based technique.
Royal DSM announced it is partnering with Merseburg, Germany-based APK Aluminum and Plastics to recover plastics in multi-layer flexible food packaging.
Headquartered in The Netherlands, DSM is a worldwide company involved in health and nutrition products, chemicals and materials, and various research and development activities. Its materials division makes plastics and packaging, including multi-layer food packaging.
The main driver for the multi-layer packaging is to boost shelf life and prevent food waste, according to the company. That frequently means incorporating a layer of PA6 along with PE film. The PA6 serves as an oxygen barrier, and it improves the strength of the film. The PE works as a moisture barrier. "Such packaging cannot be produced with a mono-material PE film, since the layer thicknesses to achieve sufficient barrier properties would become too high," according to DSM.
But the layers are impossible to effectively separate and recover via traditional mechanical recycling techniques.
'Newcycling' technology
Founded in 2008, APK is scaling up what it calls its "Newcycling" process, a multi-stage chemical and mechanical recycling process. It involves immersing shredded and washed mixed plastics in a solvent. According to an October 2017 write-up from the Saxony-Anhalt Investment and Marketing Corporation (Saxony-Anhalt is the German state were APK is located), the solvent dissolves the PE so it can be separated from the solid polyamide via special rotary equipment. The solvent is then removed for reuse, and the separate plastic streams are extruded and pelletized.
The resulting PE and PA are compounded and sold under the brand names Mersalen and Mersamid. They're suitable for extrusion, blow molding, compression molding and injection molding, according to APK.
"The Newcycling process is highly cost-efficient and offers a competitive, sustainable material source," Florian Riedl, head of business development for APK, stated in a press release. "The re-granulates generated from multi-layer PE/PA6 packaging waste can be used again in demanding flexible packaging, which contributes to the target of a circular economy."
Scaling up production
APK, which already runs a large-scale pilot plant, is building a larger production facility to tackle the multi-layer flexible scrap. It recently got a boost from Hungary-based oil and gas giant MOL Group. A virgin plastics maker, MOL Group signed a deal to help APK finish building the facility.
Florian Riedl, head of business development for Newcycling at APK, told Plastics Recycling Update most of the equipment has already been installed and the company is planning to start the line in late November. The facility's capacity will be 8,000 metric tons per year.
As a first step, APK plans to start with processing post-industrial PE/PA multi-layer film at the plant, he said.
APK has also begun working with plastics producer Borealis, chemical and consumer goods company Henkel and packaging maker Mondi. In June, the companies announced they had formed a joint development project for recycling multi-layer packaging. In a press release, Mondi noted it had already conducted test runs replacing virgin LDPE with APK's recycled LDPE in new multi-layer film for detergent packaging.
Ocean plastics prevention
APK isn't the only company using a process of dissolving polymers in multi-layer films so they can be recovered. Global consumer products company Unilever is backing a project in Indonesia to dissolve, separate and precipitate the PE layer of multi-layer films.
The project essentially uses a modified version of the 15-year-old CreaSolv process, which was patented by the German Fraunhofer Institute for Process Engineering and Packaging IVV. In that process, the solvent can also be reused.
When announcing the project last year, Unilever cited the prevalence of multi-layer film packaging in Indonesia, as well as the resulting high levels of waste and ocean plastics generation.
APK has said it also wants to build a plant in Southeast Asia to help prevent the generation of marine plastics.
Photo courtesy of APK.
To receive the latest news and analysis about plastics recycling technologies, sign up now for our free monthly Plastics Recycling Update: Technology Edition e-newsletter.
More stories about technology